Sneak Peek: Holly Madison Gives Birth In New Reality Series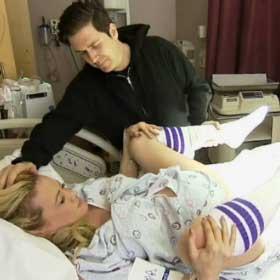 She's been a Girls Next Door star and Dancing with the Stars contestant, now Holly Madison is joining the growing list of reality stars who have shared the birth of their babies with TV viewers.
Madison's new E! show, Holly Has A Baby, premieres Sunday with scenes of the new mom in the delivery room.
In full make-up and even laughing, Holly is seen on a birthing table, following her doctor's instructions to "push."
Article continues below advertisement
By her side is her baby daddy and husband-to-be Pasquale Rotella.
The pair's daughter, who they named Rainbow, was born March 5.
As RadarOnline.com reported, Rotella was indicted on bribery and embezzlement charges last week and faces a possible 13 years in prison.
But that isn't stopping Holly from making wedding plans.
They'll wed August 15, three weeks after Rotella's trial is set to begin.
You can watch a sneak peek of the episode HERE