Heeeere's Heidi! Klum Flashes Leg While Dancing On Jay Leno's Desk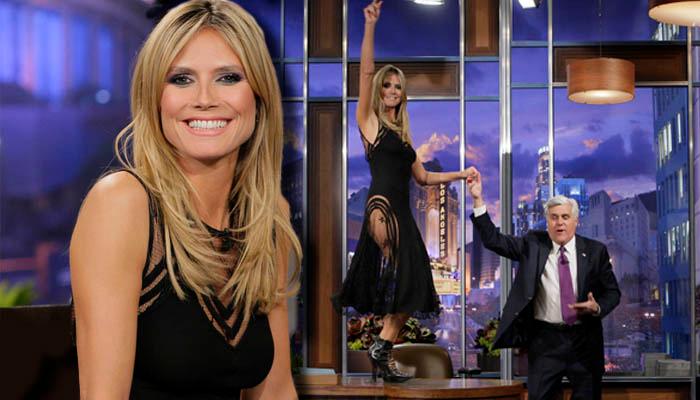 Heidi Klum made quite the impression on The Tonight Show Wednesday, doing a sexy dance on top of Jay Leno's desk in a black, see-through gown that showcased her mile-long legs, and RadarOnline.com has the clip.
The mother-of-four explained how she came to pull the sexy schtick at a Golden Globes after-party earlier this month.
"I had fun. I was with my friend Lorraine Schwartz, she's like one of the best jewelry designers," Heidi said. "We were at the Harvey Weinstein party afterwards, and she was like, 'This party is so boring, we need to do something fun,' and she's like, 'Go and dance on the table,' so, someone had to.
Article continues below advertisement
"So I did. And, you know, I had a few glasses of champagne and so I was like, 'Why not?'"
"Have you ever fallen while dancing on a table?" Leno asked Heidi, who responded, "Well, no, 'cause I got skills.
"You just have to get up," she said, climbing atop the table and moving her body to Rihanna's Only Girl.
Watch the video on RadarOnline.com
The 39-year-old German beauty, who showed off an $8 million Victoria's Secret bra on the same stage 10 years earlier, tweeted afterwards, "Always love chatting with my friend @jayleno on the #tonightshow."