Broom-y Spears? New Halloween-Themed Britney Parody 'Work Witch' Steals A Spooktacular March In Cyberspace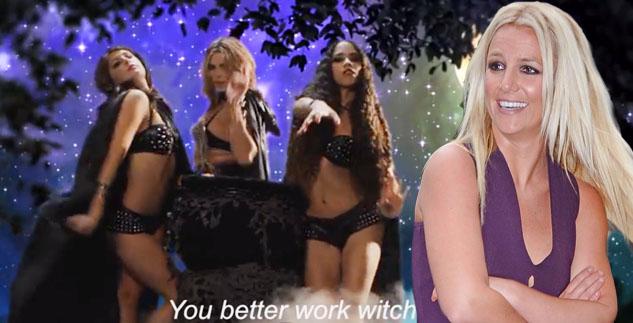 The good folks at Scrobagetv have come up with a perfect seasonal parody of Britney Spears hit single "Work B**ch," called "Work Witch."
The cute video also includes spooky cameo parodies of Robin Thicke, Miley Cyrus and Psy. It had more than 35,000 hits as of Monday, a number that's sure to surge with the holiday right around the corner.
Other appearances include Kanye West, North West, Katy Perry (Roar), Lady Gaga (Applause), Kristen Stewart (Twilight), DeadMau5, Rihanna (Pour It Up), Kendrick Lamar (Bitch Don't Kill My Vibe), Edward Cullen, Beetlejuice, and Eminem.
Article continues below advertisement
As we previously reported, it's going to be a busy few months for the pop superstar, who's about to embark on a two-year residency at Planet Hollywood in Las Vegas.
Watch the video on RadarOnline.com
Brit's new album comes out Dec. 3, and her stage show begins Dec. 27.