Gretchen Rossi To Hating Housewives: 'Bring It On' (Bleep)!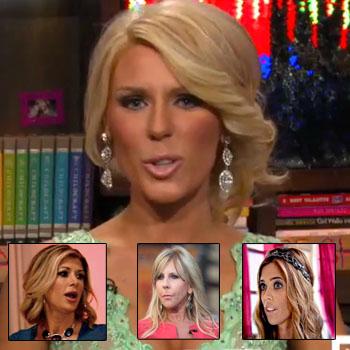 Gorgeous Gretchen Rossi is not the most popular amongst her Real Housewives of Orange County castmates, and it doesn't seem to bother her a bit.
The 34-year-old beauty, appearing on Watch What Happens Live Monday, didn't seem the least bit upset when host Andy Cohen aired a montage of clips showing Gretchen's castmates Vicki Gunvalson, Lydia McLaughlin, Heather DuBrow and Alexis Bellino taking personal jabs at her.
Article continues below advertisement
Among the low blows included Gretchen's relationship with (now fiancee) Slade Smiley, her presumed role on the TV show Malibu Country, and her honesty — or as Vicki caller her, "a liar face."
When given a 30-second platform by Andy to respond, Gretchen didn't hold back.
Watch the video on RadarOnline.com
"Everything you guys have ever accused me of, or said that I made up, I've proven you guys wrong, so I would love you guys to continue to bring it up …
"Bring it on b****es!" said Gretchen, whose engagement to fiance Slade was the focal point of Monday's Real Housewives episode that preceded her in studio appearance.
The Real Housewives of Orange County airs on Bravo Monday at 9/8c; Watch What Happens Live airs Sunday through Thursday on Bravo at 11/10c.