Heather Dubrow Says She's Not Competing With Gretchen Rossi For 'Malibu Country': 'She Wasn't Offered A Role. Period.'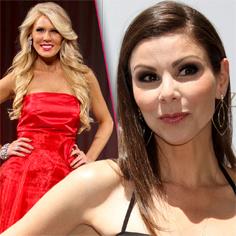 Competition is expected when you get a group of women together like those on the Real Housewives of Orange County, but cast member Heather Dubrow insists she meant no harm by rubbing in her guest role offer on Malibu Country during Monday night's episode, she was simply pointing out that Gretchen Rossi wasn't offered a role.
Heather claims her intention wasn't to spread the news that Gretchen wasn't offered a role, but instead to clear the air about having a few lines on a show, and being a guest star.
Article continues below advertisement
"I was so excited to tell the girls about getting offered a guest starring role on Malibu Country," Heather wrote in her Bravo blog on Tuesday.
"I didn't originally intend to tell the girls what I had learned about Gretchen. However, when Tamra asked me, I told her what happened."
What she claims happened was that she told the girls Gretchen's original part got written out of the show.
"I said to the group 'They called to check availability for Gretchen and a few other girls for a small walk on role. Gretchen was never 'offered' anything and that small part ended up getting written out of the show. The role I was offered was entirely different,'" she wrote.
"I only asked the casting director about Gretchen because I was excited for her. She wanted to get into this business and I thought maybe we would be working together. Let this be said. I am not a competitive person -- I truly believe there is room for everyone. I don't however condone using getting 'offered a role' as a way of having Tamra disinvite Alexis to dress shopping."
And Heather wants to make one thing clear:
"Calling to check one's availability for a few lines on sitcom and being offered a guest starring role are two different things. Also, if there was a tangible opportunity for Gretchen to do a network sitcom, which I don't believe she has done before, she wouldn't turn it down. Nor would Tamra want her to," she wrote.
"She wasn't offered a role. Period."