Giudice-Gorga Fight Escalates To Epic Proportions: 'He Was Grabbing And Biting My Nuts!'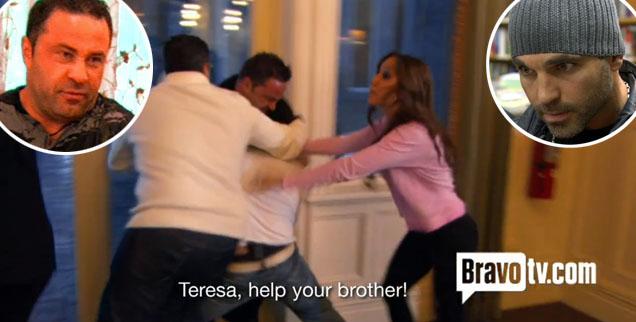 The feud between the Giudices and the Gorgas continues to escalate this week on the Real Housewives of New Jersey and RadarOnline.com has a sneak peek of the upcoming episode where Joe Giudice accuses Joe Gorga of "grabbing and biting my nuts."
Things get so ugly during the family retreat that fists fly, names are called and Teresa Giudice finally ends up in tears yelling, "Call the cops!"
"If my dad passes tomorrow, God forbid, knock on wood, I will have my own funeral without her," Gorga tells his wife Melissa after the explosive fight with his sister and brother-in-law.
Article continues below advertisement
"She deserves what she got."
"This is my family too, do you understand me? Those three babies are mine, too," Melissa interjects.
"I'm done! They're not normal. I don't care. Guess what honey? Saddam Hussein, that's someone's brother too. It doesn't mean that he's a good person."
Meanwhile, Joe Giudice tries to defend himself to Teresa saying, "He came at me babe. He tried to pick me up and slam me, and I threw him into the f**king wall.
"I swear to God babe, he was grabbing and biting my nuts! He was biting my f**king nuts!"
Exasperated, Teresa says, "What else could I have done? I want to work it out.
"But he calls his sister scum? He called me garbage, I let it go. He said that, 'At least I don't call my wife a c*nt.' Really? I wanna know, what did I do!" she screams.
Will this family ever be able to work out their differences? Sound off below…