Geraldo Says Tequila Is To Blame For Naked Selfie & Fox News Made Him Take It Down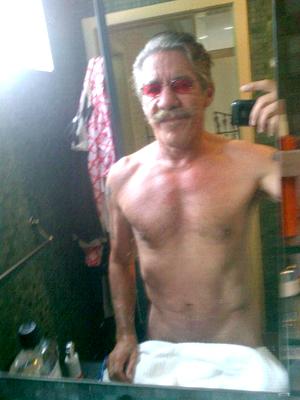 When 70-year-old Geraldo Rivera has too much tequila he does what every other drunk in America does – Tweets a naked selfie!
The Fox News host posted a scandalous picture over the weekend where he's only holding a towel up to cover his private parts and showing off his pasty white but toned bod and he admitted that he'd had a lot of tequila before posting the picture and his bosses made him take it down.
Article continues below advertisement
The photo quickly made the rounds and in an interview Monday morning with Scott & Todd on 95.5 PLJ Radio in New York City and he admitted that he'd had too much tequila to drink and his bosses made him take the photo down!
"I took it Saturday morning," Geraldo said, and explained that after doing his Fox News show that night he was too wired to just go home and go to bed, so he busted open the booze.
"I was back in the bathroom at 2:30. I had a couple of drinks. I said 'Dammit I like that picture!' I learned how to use Twitter a couple weeks ago."
Geraldo explained what his drink of choice was that night.
"This weekend was tequila. I never do tequila when I'm alone and I had a new bottle that someone had given me. I got so many bottles for my birthday."
He said that he didn't stop at just one. "The second one my fate was sealed.
Article continues below advertisement
And that's when he sent the incriminating photo and went to sleep, only to wake up with his child telling him that he'd made a mistake.
"My 18-year-old had written me in all caps saying 'TAKE THAT THING DOWN RIGHT NOW,'" he told Scott & Todd.
"It seemed like a great idea at the time," the veteran reporter said.
I figured they'd cut me some slack because I'm so old!"
He promptly removed the photo, but not before Rupert Murdoch's network ordered him to do so.
"I took it down the next day after I heard from Fox," he told Scott & Todd.
He doesn't think he's going to get fired though, and said they just told him to take it down.
"I just heard from Fox to take it down."
radar_embed service=youtube src="//www.youtube.com/embed/Yku3mcmrPxo" width="560" height="315"