Fit For A Really Rich Prince! Take A Peek Inside Will Smith's $2.5 Million Movie Trailer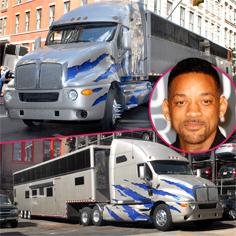 Will Smith lives large and works even larger and RadarOnline.com has an inside look into the ultra-luxurious $2.5 million trailer that the movie star uses while on set.
The motor home is nicknamed "The Heat" and boats amenities that are extravagant even in A-list Hollywood homes.
The Fresh Prince of Bel Air, who has put his Calabasas compound on the market for $42 million, camped out in the trailer during filming of his hit movies Men in Black 3, Ali and The Pursuit of Happyness and /Film released the video tour HGTV conducted last year.
Article continues below advertisement
And the trailer isn't just for one lone actor, it comes with a 30-person screening room that has $125,000 in technology, including a 100-inch TV, and surround sound.
There is a $100,000 custom-built kitchen with granite countertops and $30,000 leather ceilings.
Smith can luxuriate in the second-story living quarters in the master bedroom or in the $20,000 bathroom with a steam shower.
Even if you aren't a movie star of Will's caliber the trailer can be rented out for a mere $9,000 a week.
Check out the amazing trailer that Will calls home while at work!