Ellen Page: 'I Am Gay'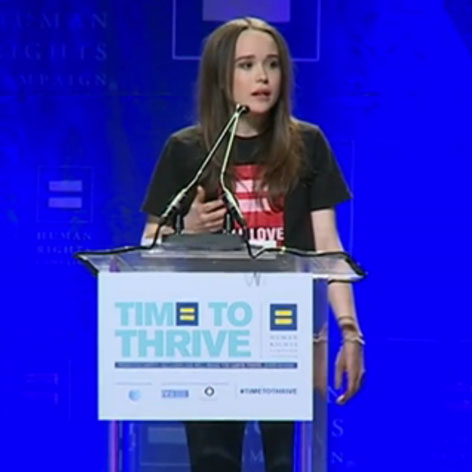 Her body often shaking, her voice breaking with emotion, Ellen Page stood at the podium of the Time To THRIVE conference Friday and announced she's gay.
"I am here today because I am gay," the Juno star announced, "and because maybe I can make a difference. To help others have an easier and more hopeful time."
Often interrupted by standing ovations from the crowd, Page held back tears as she described the fear and pain she'd experienced during the years she kept her sexuality hidden. She said that her mental health and her relationships suffered.
Article continues below advertisement
"I'm tried of lying by omission," she said.
When news spread of Page's big reveal, the 26-year-old, who next appears in X-Men: Days of Future Past, received numerous supportive tweets from Hollywood A-Listers.
"Mad mad mad mad mad mad love and praise for @Ellen Page today," wrote Anna Kendrick.
"Riveted by @Ellen Page's fabulous speech. So honest & funny & articulate. She shines," tweeted Kristen Bell.
And her X-Men costar Emile Hirsch wrote, "Props to @Ellen Page for helping so many people through their daily struggles by courageously leading by example and coming out on V Day!"
You can watch Page's emotional coming out here:
youtube