Investigation Of 'Craigslist Killer' Miranda Barbour: 5 Latest Developments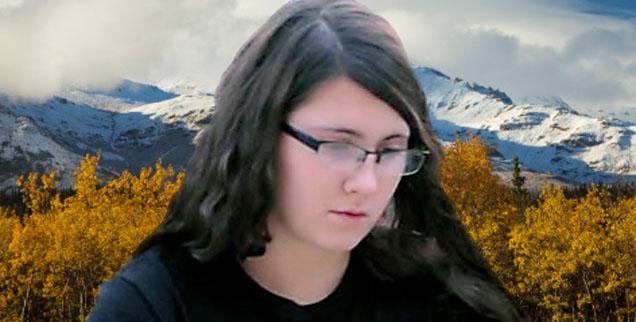 RadarOnline.com has got all the latest on the ongoing case of Miranda Barbour, the 19-year-old accused murderer who says that longtime ties to Satanism led her to slay at least 22 people in four states: Alaska, Texas, California and North Carolina.
Scene Of The Crime
In Pennsylvania Tuesday, Northumberland County District Attorney Tony Rosini said, in regards to Barbour's alleged killing spree, that "there has been no verification of any of the information that has been the subject of media coverage," adding that he wouldn't comment on the teen's claims due to ethical rules. Rosini said he will push for the death penalty for Barbour and her husband Elytte in the Nov. 11 stabbing-strangling of a 42-year-old Port Trevorton, Pa. man named Troy LaFerrara, who they purportedly lured in via a Craigslist ad advertising "companionship." Authorities say they have evidence against the couple in the form of cell phone records and surveillance tapes.
Article continues below advertisement
Watch the video on RadarOnline.com
In The System
Both Miranda and Elytte Barbour had their fingerprints and photographs captured and entered into the Northumberland County Prison system this week, three months after the slaying of LaFerrara, the Sunbury Daily Item reported Wednesday. Elytte was taken to the police station on Monday, while Miranda was there on Tuesday. Sunbury Police Chief Steve Mazzeo said, "We are just now getting into the prosecuting stage of the investigation and this was the time we chose to do it; this is standard procedure and it has nothing to do with any allegations that were made by either of the defendants." The police chief declined to comment on the pending investigation.
The Devil's In The Details
True to her word, Barbour has began informing authorities of specific locations where she claims to have left the remains of her victims, an FBI insider told MailOnline.com, adding that the spots she named currently "are being vetted" for anything related to the case. "Search teams have been put on standby but have not begun any digs yet," the source said, adding that there was no confirmation as to "how many sites have been identified by Barbour."
Article continues below advertisement
Cold Case
Perhaps the biggest mystery abounds in Alaska, where officials say that while no tangible evidence has surfaced to back up Barbour's claims, the geography of the area certainly makes the possibility plausible. State troopers in The Last Frontier, where the self-proclaimed Satanist grew up, said they are "not aware of any information, beyond Barbour's comments quoted in the press, or evidence that would implicate Barbour with a homicide committed in Alaska." North Pole senior police officer Lt. Chad Rathbun told MailOnline.com that aside from two unsolved killings he's investigating to see if there's a Barbour connection, there aren't "any open missing person cases or open homicide cases that we would be at all interested in, in regards to her." Still, Rathbun cited local nuances in saying that he's still taking her deadly declaration seriously. "The only reason I don't discount her claims is because we have people who come to Alaska all the time who want to disappear; some are running from things and it is an easy state to do that in," the lawman told the outlet. "Most Alaskans enjoy their privacy, being off the grid to some degree, you can easily do that out here … we have a large transient population and nobody misses them."
The Face Of Evil: The Top 32 Most Terrifying Serial Killers
Life Imitates Art?
The bizarre nature of the case has drawn plenty of attention from media outlets for its' parallels with the popular TV show Dexter, the protagonist of which, was a serial killer who exclusively preyed on criminals deserving of a grim fate. Breaking Bad actor R.J. Mitte, who initially laughed off the comparison between the fictional show and the real life situation, apologized for his knee-jerk reaction to the case, clarifying that he doesn't find humor in the grim topic matter, according to online reports.
For more on this story, keep it here on Radar.