INSANE INTERVIEW! Dennis Rodman Says North Korean Dictator Kim Jong Un Wants President Obama To 'Call Him' Maybe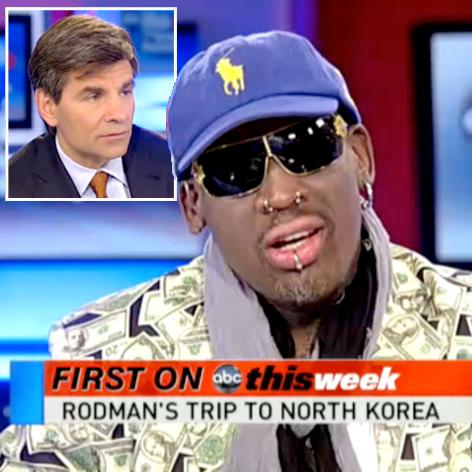 Dennis Rodman's bizarre visit to North Korea has now been followed by an equally bizarre interview on ABC's Sunday morning news show, This Week.
With host George Stephanopoulos seeming increasingly incredulous at Rodman's remarks, Rodman called the dictator Kim Jong Un - who has vowed to destroy the U.S. - his friend, a good guy, humble, so honest and just a kid.
"He wants Obama to do one thing: Call him," Rodman said. "He said, 'If you can, Dennis – I don't want to do war. I don't want to do war.' He said that to me."
Article continues below advertisement
"He wants President Obama to call him?" asked Stephanopoulos, keeping his cool.
"He's a great guy," the former NBA great added, suggesting that Kim Jong Un and the President could talk basketball.
"He's a great guy who's put 200,000 in prison camps?" Stephanopoulos replied.
"Guess what?" Rodman said, "we have prison camps here too."
Rodman was in North Korea with members of the Harlem Globetrotters basketball team and a camera crew from the upcoming HBO series, VICE.
MORE ON:
George Stephanopoulos
And Madonna's one-time boyfriend said he may well go back to North Korea. If he does, Stephanopoulos suggested he might want to do a little research on the country before he does.
"The next time you go back you should take this report from Human Rights Watch and ask him about that," Stephanopoulos suggested.
You can watch the interview here: