David Cassidy's Alleged Love Child Claims DNA Results Prove He's Her Father!
After years of trying to track down who her biological father was, Shelly Wright exclusively told RadarOnline.com she has proof David Cassidy is her dad!
Her mission to discover who her real father was began over a decade ago when she decided to confront her mother, Donna Wallace, about who her real father was.
Wallace alleged David Cassidy was likely Wright's father following a quick fling she claimed she had with the actor in the '70s. At the time of the fling, however, Wallace was married to a man named Bo, who she already shared one daughter with.
Article continues below advertisement
"I always knew that Bo wasn't my father. Bo knew I wasn't his daughter," Wright told RadarOnline.com exclusively.
Following David's tragic death in November of 2017, Wright — now 44 — was eager and determined more than ever to find out if he was her father. After several failed attempts and a negative experience with Cassidy's publicist, there was some hope.
"A lady private messaged me on my Facebook and said there was a DNA water bottle that belonged to Cassidy that she saw on Ebay and to check it out," Wright recalled. "So I looked and there it was. I had no idea!"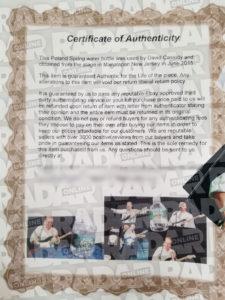 "This Poland Spring water bottle was used by David Cassidy and obtained from the stage in Manalapan New Jersey in June 2015," the Ebay seller wrote.
The listing also attached pictures of Cassidy drinking from the water bottle at that show.
Wright purchased the water bottle, and then sent a swab of her own DNA to a lab called IdentiGene to see if it matched with that of the late actor.
After weeks of anxiously waiting, on Sunday, April 1, Wright got the answer she was looking for.
Article continues below advertisement
"It's positive!" Wright claimed to RadarOnline.com. "I found out this morning. I'm so thrilled. It's been years and years and years. As I was typing the password to see the results, my hands were shaking. When I saw 99.9 percent match I was like 'oh my god!'"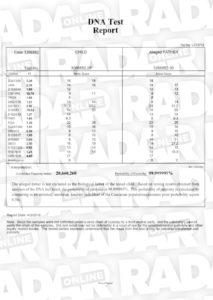 While Wright described feeling happy, she also admitted to feeling heartbroken that Cassidy wasn't alive any longer.
"It's bittersweet," Wright said. "I'm excited and I do have closure. But I'm also sad that they never listened to me, and that I never got a chance to meet him. I never even got to lay eyes on him."
While Wright will never get the chance to meet Cassidy, she was happy about the prospect of meeting his family.
"On a good note, I have a sister I never met, a brother I never met, and a uncle I never met — a whole entire Cassidy family that I have not met," marveled Wright. "The fact that I have them and that I can possibly meet them is one of the best parts of this. But it will always be bitter sweet.""
The 1970's teen idol died of liver failure on November 21, 2017. He is survived by his daughter Katie and son Beau.
We pay for juicy info! Do you have a story for RadarOnline.com? Email us at tips@radaronline.com, or call us at (866) ON-RADAR (667-2327) any time, day or night.