Dave Letterman Asks Kim Kardashian: 'You're Married To Two Guys Right?'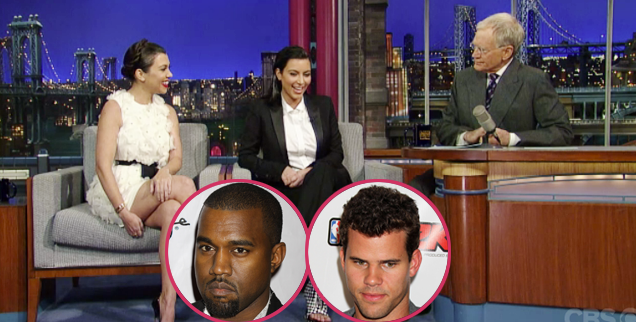 Kim and Kourtney Kardashian opened up about Kim's problems with her estranged husband Kris Humphries on Wednesday's edition of the Late Show With David Letterman, and we've got all the details for you right here on RadarOnline.com.
Letterman opened the can of worms, jokingly asking Kim -- who's expecting Kanye West's baby in July -- if she was married to two guys.
"Now, you're still married to the former husband, Kris Humphries? You're still married to him?" he asked Kim, which she confirmed.
Article continues below advertisement
The two got then into specifics about Kim's ongoing legal battle with the star forward for the Brooklyn Nets, who wants to have their infamous 72-day marriage annulled based on fraudulent circumstances.
Kim said she "would love to give him an annulment, but then that would make … the only legal way to get an annulment is if fraud were involved, so that's what tricky … he is suing me for an annulment based on the fact that I frauded him into marrying him for publicity."
Letterman asked, "Oh, so he's claiming that he was the victim of fraud?"
The 32-year-old mom-to-be confirmed that "that's the only way to get an annulment, is if one person was frauded."
That's when Kourtney, 33, sprang into action in defense of her younger sister, saying, "I think if she was going to do it for publicity, she'd pick someone that people knew!"
Later on in the chat, Kim told Letterman his ongoing jokes about her notoriously brief marriage to the NBA star "have to stop" because, technically, her marriage has lasted much longer than 72 days.
"Those jokes really can't work, because I've really been married for almost two years," said Kim, clad in a tuxedo-style outfit. "So it hasn't been 72 days, it's been almost two years."
Watch the video on RadarOnline.com
Kourtney and Kim Take Miami returns on E! Sunday at 9/8c.