Danielle Staub On Jacqueline Laurita: 'She Needs To Put The Wine Away And Seek Help'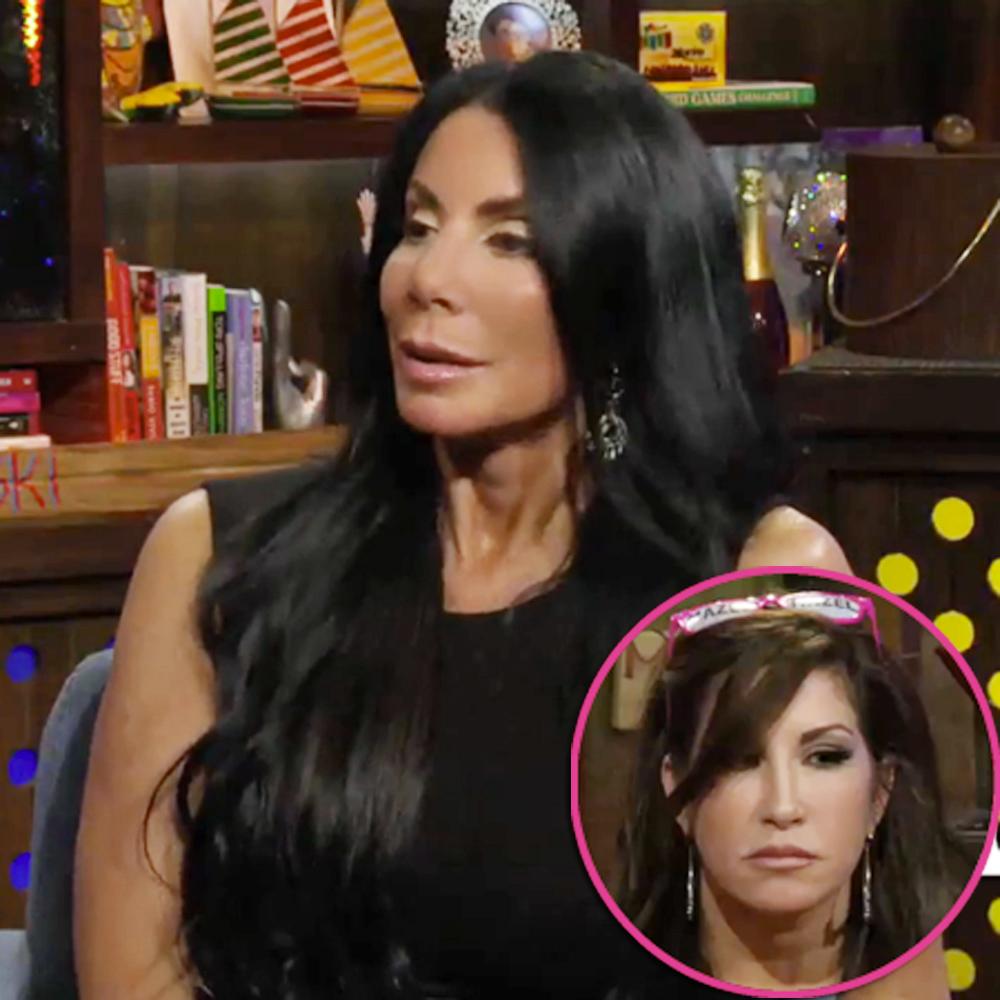 Article continues below advertisement
"I have not been around her. I haven't tweeted. I haven't talked. I mean, if you want to check timelines -- on the internet you can't erase it. We all have regrets on that and she might possibly be the worst example of somebody creating a truth.
"I moved on from her the moment she showed me her true colors."
Danielle, who left the show after season two in 2010, hugged Jacqueline on her last reunion show appearance and told Cohen, "I did genuinely hug her goodbye because I felt like we had a relationship at one time and I felt bad for her because I felt she was caught between family and friendship but in time, after that, when I thought we were just going to move on from it, I would just read horrific things on Twitter and I just knew then that was never going to be someone I could move on from."
The former Bravo star also dissed RHONJ stars Caroline Manzo and Melissa Gorga.
But surprisingly, Danielle expressed sympathy for indictment-plagued Teresa and Joe Giudice -- even though Teresa famously flipped a table and called Danielle a "prostitution whore!" on a famous RHONJ meltdown.
Teresa was referring to a book that had claimed Staub had a checkered past.
i beli
But today, Danielle is sad about the Giudices' own headline-making legal problems.
Article continues below advertisement
"I feel bad for them," she told Cohen.
"They're people. They're family. Things that are really bad are happening to them so it would be really wrong of anyone to enjoy that."
Andy ran old clips of Teresa praising Danielle -- and apparently, the feeling is mutual.
"I love Teresa," Danielle revealed. "I have absolutely no problems with Teresa."
In a clip Cohen aired on the show, Teresa admitted she stuck by Jacqueline and Caroline instead of Danielle.
"I felt she was probably stuck in between a friendship and a kinship with a family she's known the better part of her life and in trying to create a new relationship with me, I think she was manipulated by them," Danielle commented. "I do truly believe she feels remorse. I felt her heart when she was just speaking."
But Danielle has no affection for Teresa's sister-in-law and frenemy, Melissa.
Danielle confirmed they'd never actually met, because Melissa came onto the show after she'd already left.
Article continues below advertisement
"We did never meet, however, it was because I wouldn't allow that to happen," Danielle said.
"She wanted to film during season two and she thought it would be a good way to get back at Teresa and I said I wanted absolutely nothing to do with that, however, I would forward all her emails, which were a lot, to the producers, which I did, which is how with two seasons of her being behind the scenes, on camera but behind the scenes, she all of a sudden became a person of interest and that's how she landed on the show.
"I think it would be good for her to just come clean. I wanted nothing to do with what she wanted to do to Teresa. It's not my place. I don't play with that. Karma has a return policy and it isn't an exchange."
Danielle also has issues with Caroline Manzo.
Although Caroline has said she regretted calling Danielle a clown on the reality show, the former housewife said, "I'm not buying it, but thank you."
Article continues below advertisement
And, in another diss, she implied that even though they're the same age, 51, Caroline doesn't go to hip and happening places!
"At 51, I don't go to the same places she does," Danielle said. "I think we should be ... running into each other at five star restaurants, shows.
"But no -- I don't run into her."
When Cohen asked if Danielle viewed the current housewives as criminals, she replied, "Pretty much. I wouldn't say all of them but there's pretty much a bulk."
Danielle, who was the first ever guest on Watch What Happens Live, had a bone to pick with host Cohen on Sunday regarding her RHONJ departure.
"I wanted to ask you, Andy, why you said that I was fired when I left the show after season two?"
Andy said, "Did I say that you were fired?"
"Yeah, you did," she insisted.
"You actually put it out in the press and you apologized to me. It was one o'clock in the morning and I had lined up work when I left the housewives and that caused a little bit of a problem for me."
Article continues below advertisement
Cohen apologized to Danielle on Sunday night and said he thought it was a mutual decision between her and Bravo that it would be best if she left the show.
During the catch-up session, Danielle told viewers she's created a reality show about her life that's currently filming. But don't look for it to include her former alleged lesbian girlfriend, Lori Michaels. Danielle told Cohen they were together only "a minute."
When a fan asked if she's still bisexual, Danielle revealed, "I would consider myself curious, if anything. Those days have long passed.
"I'm happy to say that men are my only interest now. If there were one in particular I wouldn't say at this time -- but I can say you will see."
She turned her New Jersey house over to her ex-husband, but refused to discuss their financial arrangements.
"He's the father of my children," she said.
As far as the RHONJ goes, Danielle said, "I don't recognize half of the old gang."
In fact, the former reality star admitted she doesn't have contact with any of them!