Dancing With The Stars Pays Homage To Boston Marathon Victims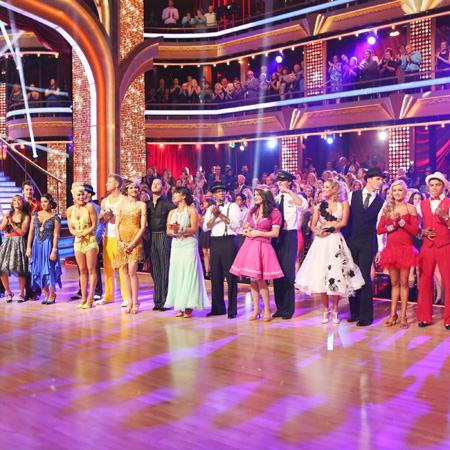 With the country reeling after the double bombing at the Boston Marathon, the show still went on on a somber episode of Dancing with the Stars Monday night, as host Tom Bergeron led off by saying, "Our thoughts are with everyone in Boston tonight.
"I have family members and many friends there -- my heart is with you," said Bergeron, who worked on Boston's Evening Magazine TV show in the 1980s. Co-host Brooke Burke-Charvet told viewers the "entire cast has been thinking about" the people of Boston (where the show did not air, as ABC affiliate WCVB-TV opted to run news coverage of the bombings.)
Article continues below advertisement
"And, as always, our show is planned in advance and hopefully we can still have an entertaining night of competition for you," she said.
SPOILER: Who Scored The Season's First 10s On Dancing with the Stars?
Zendaya is on a roll.
The Disney star, 16, thrived again on an evening contestants were challenged by judge Len Goodman to dance side-by-side with professionals, racking up two 10s for her Argentine tango, for a total score of 29 out of 30 possible points.
Judge Carrie Ann Inaba told Zendaya, "Every move you do has a story: It's like watching stylized life happen and I love it."
Judge Bruno Tonioli, calling the teen "The ultimate femme fatale," took a page out of Randy Jackson's book, telling her, "You are the best we've ever had!"
Len was the only holdout, giving the standout a nine, but with added praise.
"It was like a lemon tart: sharp and tangy at the top, crisp and tasty and the bottom."
Article continues below advertisement
On the opposite end of the spectrum, comics D.L. Hughley (tango) and Andy Dick (paso doble) stumbled to tie for the night's lowest score with 18 points apiece.
"It was like a decaf coffee ... it was too mild," Goodman said of Hughley's routine, while describing Dick's as "more Pasadena than paso doble."
Watch the video on RadarOnline.com
Elsewhere, the point totals for the respective dances were: Kellie Pickler, 27, foxtrot; Jacoby Jones, 26, jive; Aly Raisman, 25, samba; Sean Lowe, 24, quickstep; Victor Ortiz, 21, Viennese waltz; and Ingo Rademacher, 21, cha cha.
Dancing with the Stars returns Tuesday at 9/8c on ABC.