Housewife Cynthia Bailey's Marital Meltdown! Husband Peter Thomas Declares 'We Can't Continue Like This'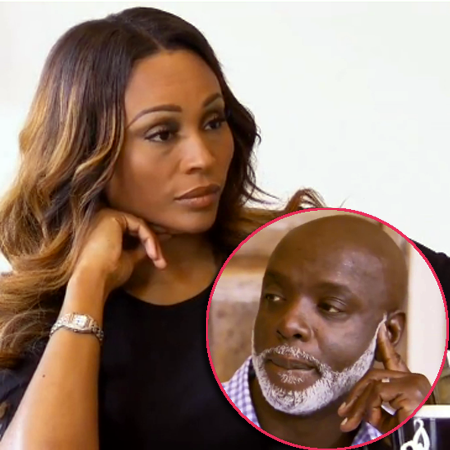 Article continues below advertisement
Deeply unhappy about Cynthia letting Malorie live with them -- without consulting him -- Peter told her, "I can't remember the last time we were happy and touching each other."
But then Cynthia revealed the pressure she felt as the family breadwinner.
"I don't really have time to think about sex all day," she snapped at her husband. "I have to work to be able to afford the bed that we sleep in so we can have sex."
And the beautiful former model bluntly told Peter she didn't have the luxury of cooking him meals and having sex two or three times a day!
Cynthia said, "You're not the only one who's frustrated in this relationship. I'm definitely frustrated as well. So what is the answer so that you get what you want and I get what I want?"
Peter said, "We can't continue like this. Somebody needs an escape route."
He suggested to save their marriage, they should get him his own man cave, a place where he could go on his own to unwind.
Article continues below advertisement
(And as RadarOnline.com readers know, this is a very bad sign, as Bruce Jenner got his own "man cave" on Keeping Up With the Kardashians -- before he and Kris Jenner officially split.)
But Cynthia said getting a bungalow across town for Peter wasn't the answer.
"Next you'll be like, 'Well, let me just have a little hottie on the side to take the pressure off you,' " she raged.
"I feel like I'm sacrificing everything to ensure we get to where we're trying to go," Cynthia said, also reminding Peter she moved to Atlanta to be with him.
But "everything you told me did not work out -- far from it," she sighed.
Angry Peter let the expletives fly and said, "You're out of your mind."
"Why do you keep on going back there!" he shouted when Cynthia complained about how she had to earn the money.
She accused him of being disrespectful by cursing.
He stalked out of the room but then came back to ask, "I can't get my man cave and get the f*** away from this tension all the time?"
Article continues below advertisement
As the episode ended, the whole issue was left up in the air.
Before the eyebrow-raising argument, however, Cynthia had buried the hatchet with her sister, Malorie, who had once argued with Peter and hadn't spoken to him in a year.
"I was wrong. Let's move forward," Malorie told Cynthia. But she created more tension by moving in with the Thomases!
Malorie also looked askance at Peter's fancy new car.
In another Sunday storyline, NeNe Leakes, Phaedra Parks, and their old pal Chuck Smith went to speak to the Boys and Girls Club in their hometown of Athens, Georgia.
The heartwarming outing to interact with disadvantaged kids went well -- until former football player Chuck, who is now married to recurring RHOA star Mynique Smith, brought up how Phaedra had told his wife while on the Savannah girls' bonding trip that she and Chuck had once been a couple.
"I said we had dated," Phaedra explained.
"We never dated," Chuck said. "We caught up with each other when you was a young lawyer trying to get in the game."
Article continues below advertisement
Chuck went on to arrogantly tell Phaedra his version of their "relationship" -- that she was just one of the many women, including her RHOA co-star Kandi Burruss, that he had used for sex as a young millionaire football player.
"I was THAT GUY in Atlanta. I was in my prime. I was from your hometown and that's what it is. What describes what we really were? We're the first version of the friends with the benefits, girl!" he insultingly said.
As Phaedra was silent in the back seat of Chuck's SUV, NeNe asked, "So y'all had sex?"
"Hell, yeah, we did!" Chuck said.
He claimed he'd never taken Phaedra out on a date, as she claimed.
She said she'd been to his football games, and Chuck retorted. "I had six different chicks stashed in the corners. You were part of the team. You and Kandi."
He said he was "kicking it with you and Kandi at the same time."
Article continues below advertisement
Phaedra scoffed to Bravo's cameras that Chuck had it all wrong: "It might be because all of the concussions, you know, he was a linebacker ... he got hit in the head too many times."
She was shocked that Chuck attacked her but concluded, "He's hating 'cause I turned out to be something that he isn't -- very successful and he's looking back thinking, 'Wow, she's definitely the one that really got away.'"
Meanwhile, Chuck not only ran down Phaedra during the car ride -- he said Kandi was a nice girl, "but she was messing with multiple men.
"I made Kandi think she was special, no question. I lied to her.
"I was the big homie for a lot of people."
Phaedra said in confessional, "He's a jerk!"
Also on Sunday's RHOA episode, Porsha Stewart told her mother Diane she was finally moving out of her house and getting her own place.
Article continues below advertisement
"I think I'm over the hump now with my problems," the 32-year-old housewife, who split from ex-football player hubby Kordell Stewart, told Diane.
Mom Diane was sorry but later happy to tour Porsha's enormous six bedroom, 8,000 sq. foot new house with Porsha's brother and sister.
"It's the first day of the rest of my life and I cannot wait," Porsha told the cameras.
While Diane was impressed with the huge kitchen countertop, her brother was concerned about the cost.
Porsha admitted her support payments from Kordell might end, "but this is a belief in Porsha move," she said. "I went big on the house."
"I'm a big girl now!"
As RadarOnline.com has previously reported, Porsha let her family know she'd spoken with Kordell -- who didn't actually want the divorce.
But in the end, Porsha concluded that it hadn't been a good idea to reach out to Kordell.
And she told her mom and siblings she was going in for a divorce settlement: "I'm going to plead my case; he's going to plead his case and then the case evaluator is going to say, 'You get this, you get that, and you go your separate ways.' It just needs to be done."
Article continues below advertisement
Meanwhile, Kandi Burruss and her Mama Joyce, who disapproves of her engagement to Todd Tucker, had another heart-to-heart talk on Sunday's show.
"I felt like you put a dagger in my heart," Joyce complained. "I have done too much for you for too long."
Mama Joyce told Kandi that her doctor had told her worrying about her daughter's love life wasn't good for her health.
"Your life is yours," Joyce said.
An elated Kandi replied, "That's all I wanted!"