Mama Joyce Was Right? Cynthia Bailey's Friend Says Kandi Burruss' Fiancé Todd Tucker Is A 'Hustler' On 'RHOA'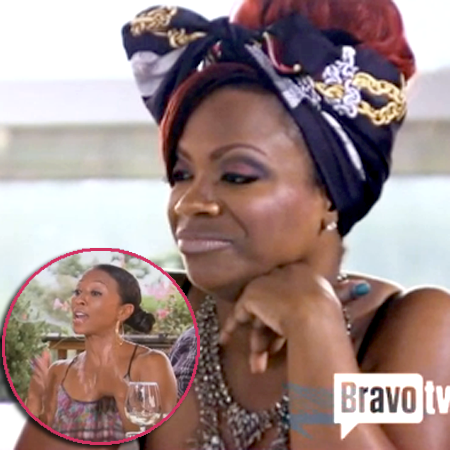 Is Kandi Burruss' famously disapproving mother, Mama Joyce, right about her fiancé Todd Tucker?
That's what The Real Housewives of Atlanta fans were wondering on Sunday night, as another person came forward to charge that Todd was sketchy with the ladies.
On the episode, Cynthia Bailey's friend Natalie joined the housewives to dish some serious dirt on TV producer Todd.
Natalie told Cynthia she had known Tucker years before, when he had dated her friend. According to Natalie, Todd cheated on the woman and "broke her heart a couple of times."
Article continues below advertisement
Watch the video on RadarOnline.com
She added, "Todd knows how to find himself in situations to better himself."
Startled Cynthia went on to share the information to the other housewives behind Kandi's back while they rode in a minivan to a winery outing in Atlanta.
And later, Natalie herself confronted Kandi about Todd, after Kenya Moore threw some shade her way, saying she knew Natalie wasn't even married to her own supposed husband, R&B singer Christopher Williams.
Natalie called Kenya a liar in a nasty exchange with RHOA's resident diva, and later turned the discussion to Todd, telling Kandi he had broken the heart of her friend.
"She was the one telling Cynthia that your man is an opportunist!" Kenya shouted to Kandi.
"Those words never came out of my mouth, lying pageant girl!" Natalie replied.
Natalie then went on to deny to the other housewives that she had said Todd was an opportunist. But it was actually worse, as Natalie said she meant that Todd was "a hustler"!
Article continues below advertisement
"Todd knows how to swerve; he knows how to find himself a better situation," she elaborated to Kandi. "Those are my exact words. Todd was always on the 'come up.' "
Porsha Stewart gasped, "You know that means you're getting with someone who has more money. You're calling out her fiancé."
But Kandi set Natalie straight, shouting, "Nobody cares about your friend! And you can stop bringing her up. Bottom line, you saying he wanted to 'date up,' you're just letting me know you think I'm a hot b***h. And I am!
"I'm successful. I can't help it and I look good, so that means he has no reason to cheat! He got the hottest b***h he could find in Atlanta. He came up! Give it up for Todd!' Kandi hollered in triumph, raising her wine glass.
But Kandi still has the specter of Mama Joyce to deal with, as earlier, she admitted to the cameras that she might be going to the courthouse to marry Todd so that her mother wouldn't get the chance to stand up and object at their wedding!
Article continues below advertisement
She also said her idea of getting married on Valentine's Day had been put on the back burner.
Earlier, Todd had decided not to take the other job he'd been offered. To Kandi's delight, he agreed to help her with her musical play instead.
Also on Sunday's episode, Cynthia and her husband Peter Thomas celebrated their third anniversary and the RHOA husband treated her to a surprise romantic dinner with pal Christopher (who was once romantically linked to Halle Berry!) serenading the couple.
Even though her rocky marital times have been explored this season, Cynthia said after the dinner, "I feel really lucky."
Meanwhile, NeNe Leakes, who has called Porsha a bad friend, decided to patch things up and visit her new house.
NeNe told Porsha that Kenya's supposed boyfriend -- a man no one has ever seen -- gave her a Bentley. NeNe laughed about how Kenya said he was an oil tycoon.
Kordell Stewart As for Porsha dating, to NeNe, "I'm pissed at all men right now."
Article continues below advertisement
She had decided she'd next say hi to Kordell when she had a hot man on her arm!
And as RadarOnline.com previously previewed, Kenya's family was disapproving when she announced she was going to start a family through in-vitro fertilization.
The former beauty queen didn't know who the father would be and hesitated about having one with her "African prince" because he lived too far away.
"I know I'm willing to make sacrifices. I'm so tired of not having my own family," she told the group.
She told Bravo's cameras not having a relationship with her own mother, who abandoned Kenya, made her want to repair that void.
But her aunt Lisa challenged her to become closer to the family she had already before having a child on her own.
Later, the new woman in the group, Natalie, found she had a target on her back with Kenya saying Natalie was considered Christopher's groupie, not his wife, while Cynthia thought their marriage might be the "common law" kind.
Watch the video on RadarOnline.com:
"I know a lot about your man!" Kenya said insultingly to Natalie on the vineyard outing.
Natalie pointed out as a single woman, Kenya didn't have the right to speak about her husband.
"You keep coming for me and we all know how this is going to end," Kenya told Bravo's cameras menacingly about newcomer Natalie.