The Dinner Party From Hell! Kardashian Sisters Break Bread – And Trade Barbs – With Chelsea Handler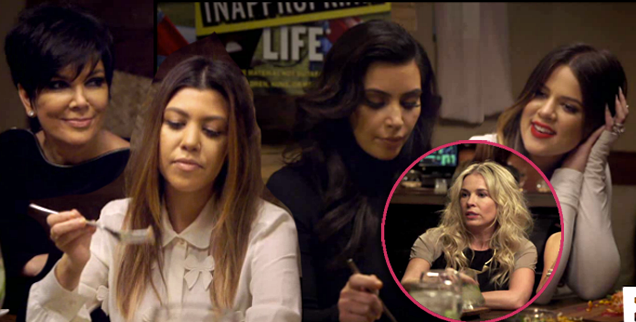 The saga between the Kardashians and Chelsea Handler continued on Monday's edition of After Lately, highlighted by a hysterical bit in which the show biz forces poked fun at one another -- with fully sharpened claws.
In the bit, Chelsea was corralled into a dinner with Kris Jenner, Kim, Kourtney and Khloe Kardashian by pal Heather McDonald.
"That is an Armenian ambush -- this is you setting me up with the four people I make fun of most in the world!" Handler told McDonald, the first of harsh words exchanged in the episode.
Article continues below advertisement
Kourtney, returning years of digs from her dinner party mate Handler, asked the comic, "How's the cocaine in Hollywood these days?"
Handler then asked Khloe, "How are your black lovers?"
Khloe responded, "Phenomenal … how is it being utterly alone?"
The "Momager" also piped in with a few barbs aimed at the blonde host, telling her, "We actually do quite a bit, shockingly.
"I know that's hard for you to believe -- I mean we do have four television shows that have amazing ratings, better than yours," she said. "We have makeup lines. We have seven fragrances."
Handler replied, "I have a dead brother and dead mother."
Khloe chimed in, "And we have a dead father."
The bit culminated in a showdown between Khloe and Chelsea in the restroom, with Khloe saying, "You're a bully and we're not gonna let you bully us around anymore" -- before beating her up and stealing her dress.
Watch the video on RadarOnline.com
Chelsea Lately airs weeknights at 11/10c on E!