Did She Actually Say That? Chelsea Handler Quips: 'I Don't Mean To Sound Gay, But…'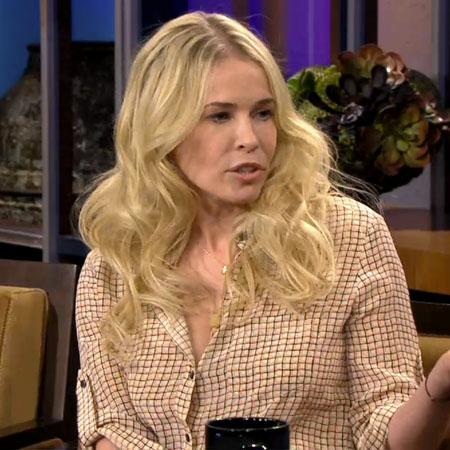 Oh, no she didn't.
Chelsea Handler has never been politically correct, but the talk show host committed an eyebrow raising faux pas when she quipped to Jay Leno on Wednesday's The Tonight Show, "I don't mean to sound gay, but…"
The deadpan comedianne - who makes 'Debbie Downer' look like bubbly Anne Hathaway - was telling Leno about her boyfriend's romantic Valentine's Day gift to her when she said, "He wrote me this really beautiful book about our relationship. I mean, I don't mean to sound gay, but it was very sweet, and I made him a scrapbook. It was just very nice. He's a very romantic kind of guy, and I'm not that romantic, so I have to really get into the groove."
Article continues below advertisement
Handler put her foot in her mouth once again when she joked about her boyfriend, Andre Balazs, playfully 'hitting' her.
"We have a fun relationship. We laugh a lot. He hits me, like jokingly, but people don't know that, so that's funny. Like we'll be at a party, and he'll comes up and just smacks me across the face, and we both are starting to laugh, and people are like, 'Oh my God, oh my God, but It's fun for us… and that's what's important… to have private time," she said.
Watch the video on RadarOnline.com
The Tonight Show with Jay Leno airs weekdays at 11:35/10:35c on NBC.
Chelsea Lately airs weeknights at 11/10c on E!