Exclusive
Cheer Perfection Runs In The Family! Pushy Moms Show Off Their Own Performing Skills In Vintage Video!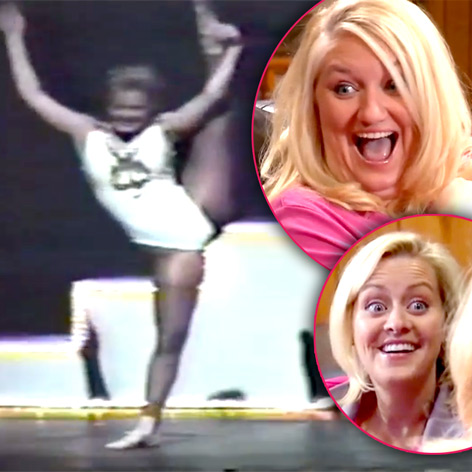 Cheer Perfection moms often push their daughters to crazy extremes in their quest for them to be crowned the top cheerleader - and now, never-before-seen video of the moms performing back in their own childhood days, is shedding light on why they're so super competitive when it comes to their girls succeeding!
In a clip of the upcoming episode of the hit TLC show, which you can watch exclusively on RadarOnline.com, cheerleading coach Alisha and reality mom Ann watch old VHS tape footage of a beauty pageant they competed in when they were young.
Article continues below advertisement
"OMG! I was like 16," Alisha exclaims when she sees herself on TV. "That thing was leather!"
As they watch her dancing on stage, and breaking out with some impressive gymnastics, Alisha confesses that the performance moves were NOT her idea!
"Oh my Lord!" She laughs. "My mom made me do this stupid routine."
Then, the performance critiquing moves to Ann, who not surprisingly, was in much better shape in her 20s than now, - a fact that doesn't go unnoticed by Alisha.
"You were really skinny!" She marvels.
Tune into TLC, Wednesday at 10/9c to catch the latest episode of Cheer Perfection, and find out what crazy measures the moms are willing to go to next in their bid to keep their daughters on top.