Charlie Sheen Facing Criminal Investigation After HIV Cover-Up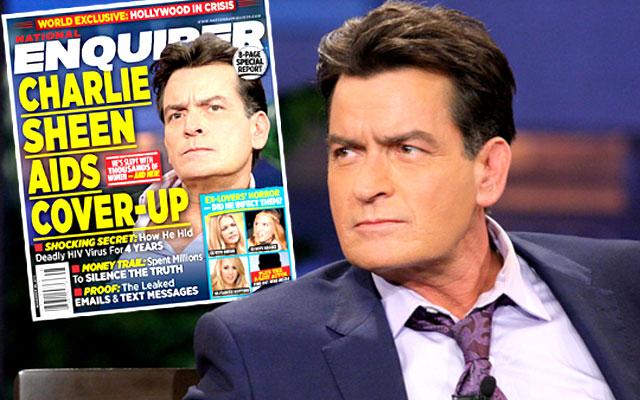 Charlie Sheen could be facing a criminal investigation after The National ENQUIRER revealed his massive HIV cover-up, RadarOnline.com has learned.
A source in the Los Angeles County District Attorney's Office told Radar, "If an alleged victim comes forward claiming Charlie Sheen had unprotected sex with them, without notifying that person about his HIV status, it will be completely and fully investigated."
Article continues below advertisement
"The victim doesn't need to contract HIV for prosecution to take place," the source explained. "These cases are taken very, very seriously and any alleged victims identity will be protected."
The punishment for a guilty conviction is a minimum of three years to a maximum of eight years in state prison.
Under California law, it's a felony for anyone with HIV to engage in "unprotected sexual activity (anal or vaginal intercourse without a condom) when the infected person knows at the time of the unprotected sex that he or she is infected with HIV, has not disclosed his or her HIV-positive status, and acts with the specific intent to infect the other person with HIV, is guilty of a felony."
Criminal defense attorney, Tony Brooklier, told The National Enquirer, "It's the act of not informing them ahead of time that matters."
Sheen's ex, Bree Olson, claimed in an interview with Howard Stern Monday that the actor had not disclosed his status to her. "He told me, 'I'm clean,'" she claimed.
In a blockbuster world exclusive, The National ENQUIRER reported Monday that Sheen has been suffering from the virus for years. And according to one insider, "Charlie had sex with multiple partners since learning his HIV status without informing them of his potentially deadly HIV infection."
Article continues below advertisement
After an exhaustive 18-month investigation, the ENQUIRER revealed that the sex-crazed 50-year-old actor, who has a long history of sleeping with porn stars, strippers and groupies of both sexes, is now desperate to cover up his medical crisis, and it's costing him millions.
"Charlie thought he was indestructible and took no precautions — even though he was indulging in high-risk sex practices," a close friend of the star said.
Sheen, who has boasted of sleeping with more than 5,000 women, confessed his illness to almost a dozen sources, who then divulged the information to The ENQUIRER and underwent intense scrutinizing by the publication, including lie detector tests administered by an independent polygrapher.
More than 1.2 million people in the U.S. are living with HIV or AIDS. If you are worried about HIV, get in touch with the Centers for Disease Control and Prevention.