Celebs React To Jodie Foster's Coming Out Speech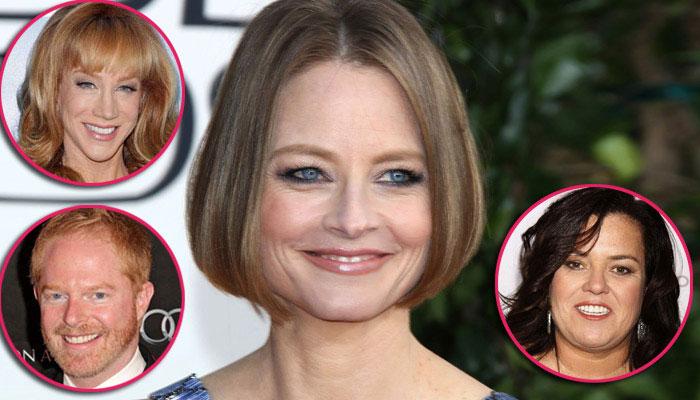 Twitter was abuzz following Jodie Foster's moving and personal speech at the 70th annual Golden Globes Sunday, and we've got all the details for you right here on RadarOnline.com.
As we previously reported, the two-time Oscar winner, while accepting the Cecil B. DeMille Lifetime Achievement Award, indirectly hinted to her sexuality in saying she's always kept mum about it for privacy; and that she came out to her friends and loved ones "about a thousand years ago, back in the stone age…
Article continues below advertisement
"In those very quaint days when a fragile young girl would open up to trusted friends, and family, coworkers and then gradually, proudly, to everyone who knew her. But now, apparently I'm told, that every celebrity is expected to honor the details of their private life with a press conference, a fragrance and a primetime reality show," she said. "You guys might be surprised, but I'm not Honey Boo Boo Child."
On Twitter, many celebs hailed the Silence of the Lambs star for breaking her's, at long last.
Rosie O'Donnell: "jodie foster – rather amazing speech.
Jesse Tyler Ferguson: "Jodie Foster. You are perfection. I love you."
LeAnn Rimes: "Jodi Foster.... Wow, still crying"
Gabrielle Union: "Loved Jodie Fosters speech..."
Kelly Osbourne: "f**k yeah Jodie Foster your speech is amazing!!!"
Kathy Griffin: "'I'm a big #JodieFoster fan, especially 2nite. Her speech tells LGBT youth: America has evolved, b proud of who u are!!"
Article continues below advertisement
Emmy Rossum: "Jodie Foster is an inspiration. Incredible speaker. So moving."
Sally Jessy Raphael tweeted: "Wow, Jodie Foster officially came out tonight! Bravo Jodie! Hollywood's worst kept secret is finally 'out'!"
Jose Canseco: "Wow Jodie Foster at goldenglobes makes me want to join the lesbians"
Backstage, many of Jodie's show biz colleagues shared their thoughts of her speech with the L.A. Times.
Lena Dunham: "I thought Jodie Foster's speech was mind blowingly beautiful. ... It was really a complex, interesting assessment of what it's like to have a creative career over a long period of time."
Jessica Chastain: "I don't know what she was trying to relate, but I can tell you what I took from the speech, as an actress I struggle with the idea of privacy … the actors who I respect are the ones who try hard to keep their privacy like Jodie Foster. I think when an actor is able to do that the audience is better able to accept them in different roles."
Article continues below advertisement
John Hawkes: "That was great, wasn't it? She handled herself with such grace and wit. It was really amazing."
Ryan Murphy: I love Jodie Foster so much
Marlee Matlin: Jodie Foster at the #GoldenGlobes. Pure Jodie, rightfully defending her privacy while doing it with brains and a smile. She is pure class.
Richard Dreyfuss: Jodie Foster is one of the most amazing actresses of all time. More than that she's one of the most amazing people
Zach Braff: That was so inspiring to watch Jody Foster give her speech in character as Nell.
radar_embed service=youtube src="https://www.youtube.com/embed/qclsRq6tYi8" width="560" height="315"