Come Fly With Me! British Airways Investigating Two Stewardesses For Raunchy Web Video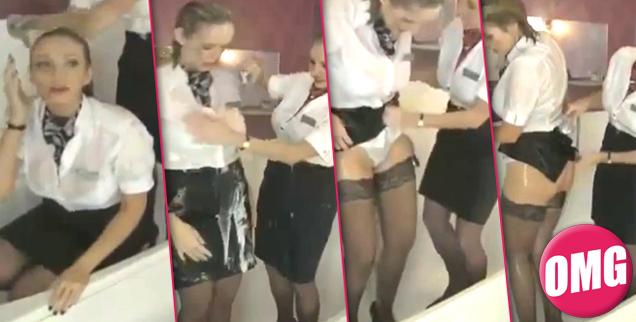 A viral video making the YouTube rounds gives breathes new life into the term "Fly The Friendly Skies."
The clip -- "Sexy Two Air Hostesses" -- shows a pair of foxy flight attendants in a bathroom, with one stripping down to lingerie, while the other one helps her bathe.
The uniforms are similar to those worn by British Airways staffers, spurring an internal investigation by the company as to the source of the sexy clip.
Article continues below advertisement
"We have been aware of the video for a couple of weeks but we have no evidence yet to confirm whether or not they are current BA employees," a company spokesperson told the UK Sun. "Our investigations continue."
Watch the video on RadarOnline.com (WARNING: Clip Contains Adult-Oriented Content)
youtube=https://www.youtube.com/watch?v=3oBB7OabhDg&w=420&h=315
The clip continued to gain traction with media coverage, racking up more than 200,000 views.