Brandi Glanville Slams Adrienne Maloof Dating Boytoy Sean Stewart -- 'It Makes Me Want To Throw Up!'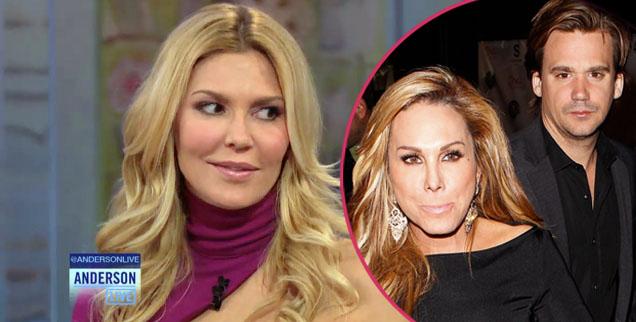 Brandi Glanville has no issue with the age difference between Adrienne Maloof and her boytoy Sean Stewart, but says it's literally the idea of the two of them together that makes her want to throw up!
In an appearance on Anderson Cooper's show that airs on Friday, The Real Housewives of Beverly Hills star dished on everything from what a "bad visual" her Bravo co-star and her young boyfriend are together, to her own distaste for suitors sending her "penis pictures" -- and RadarOnline.com has a video clip.
Article continues below advertisement
"I'm sorry, it's just — yikes, it's a bad visual for me...the whole thing," Brandi said of Adrienne, 51, and Sean, 32.
"There's nothing wrong with that," she said of the age difference. "It's just those two people. It just makes me want to throw up in my mouth a little and swallow it."
According to an inside source, Sean's love for dating cougars comes from childhood "mommy issues."
"Sean has always had a thing for older women," the source exclusively told RadarOnline.com.
"He's never had a great relationship with his mother, so it's translated into these 'mommy issues' that have rolled over into his dating life."
Speaking of dating, here's some advice for men hoping to date Brandi: Don't sext naked pictures of yourself to her!
"I hate — I don't know if I can say the word — I don't like penis pics. Like, don't send me a picture of your penis," Brandi said.
"I don't wanna see it. Even if we're dating… That does not fly with me."
Brandi's not just opposed to "penis pics," the 40-year-old mother of two doesn't want men sending her any sexy photos — because it's her job!
"I do not think that's hot. I do not need ab pics, I don't need any of that," she said.
"I think I should be sending them the pics."
Tune into Anderson Live on Friday for the full interview — check local listings for times.