'RHONYC': 'Bookgate' Hell Moves To The Hamptons, As Heather Thomson Tears Into Aviva Drescher, & Violence Nearly Ensues!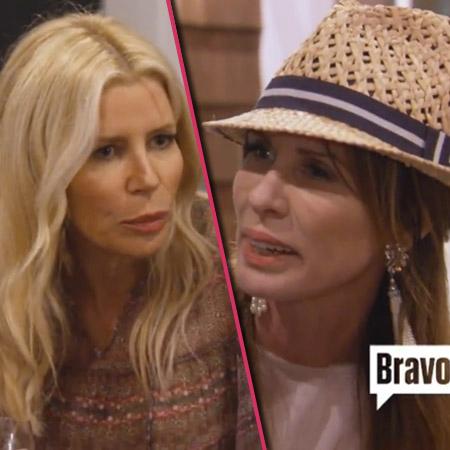 The Real Housewives of New York City can't seem to turn the page on "Bookgate."
After Aviva Drescher accused her co-star, professional writer Carole Radziwill, of using a ghostwriter, the housewives began taking sides.
And on Tuesday's episode, the tumult continued at Countess LuAnn de Lesseps' house in the Hamptons, as Carole's friend Heather Thomson got into a nasty argument on the issue with Aviva. The battle wound up involving Aviva's image consultant friend, Amanda Sanders, and at the end of the night, Heather ordered Amanda to "Deck me!"
Article continues below advertisement
Outrageous Extravagance! The Secret Life Of Socialites Revealed
It all started when LuAnn made her return to the show and hosted a party for the ladies.
Carole, 50, had an ongoing feud with LuAnn, 48, and surprised her by apologizing for hurting her feelings in the past. LuAnn accepted her apology and they patched things up -- but Aviva thought Carole was lining up allies against her!
Later, Aviva gave Sonja Morgan a kiss -- right on the mouth -- after Sonja said Carole should have supported Aviva's memoir, "Leggy Blonde," instead of being critical.
When Carole joined the discussion, Sonja told her how she felt. But then Heather jumped in to defend Carole, telling Aviva, "You character assassin everybody!"
As Heather and Aviva's argument got heated, Luann tried to break it up. But the Countess admitted to the Bravo cameras that she felt "totally out of control in my own house."
Meanwhile, Aviva and Heather went at it again, with Aviva accusing her of threatening her at her housewarming party weeks before.
Article continues below advertisement
"You said, 'You better watch your back!'" Aviva said. "Don't point your finger at me."
In a futile bid to get the party back on track, LuAnn shouted, "I'm the hostess! Take it back a notch," and asked that Carole and Aviva talk it out privately in the kitchen.
Watch the video on RadarOnline.com
But it was no use as the argument escalated to involve a show newcomer, image consultant Amanda Sanders.
"Be nice and walk the f**k away," Amanda advised Heather.
"Why don't you walk the f**k away?!" Heather fumed.
Amanda said to the other ladies, walking away, "I have to pee and I'm going to f**king deck her in the face."
Heather responded, "You want to deck me in the face? Let's go!"
As they walked into another room, Heather baited the tipsy looking image consultant to stand up straight and demanded, "Deck me!"
But as a preview for next week's show revealed, Heather's target will again be Aviva!
Article continues below advertisement
First, however, viewers saw the other housewives enjoying their stay in the Hamptons on Tuesday night's episode.
Sonja did another one of her burlesque shows there to raise money for a LGBT charity. And the millionaire housewife realized she needed to change her program during the rehearsal, and eliminate the backup dancers.
With the other housewives looking on, Sonja, 50, hit the stage and had a wardrobe malfunction. Amanda, who had accompanied her friend Aviva to the event, whispered in the audience, "Ugh. I saw nipple … that's what menopause looks like."
Heather sighed to the cameras, "She's the rudest person."
How Housewives Stars Go From Home To Hot – See The Photos
Carole admitted of Sonja's act, "There is a cringe factor -- but it's Sonja Morgan!"
Carole, Kristen Taekman, and Heather also got into the spirit of the Hamptons by taking a surfing lesson with hunky instructors. And Carole couldn't resist flirting with one of the much younger men in the surf.
Watch the video on RadarOnline.com
Also on the episode, Heather wasn't the only one who didn't like the image consultant, Amanda, attaching herself to the group.
When Amanda showed up at LuAnn's party with Sonja's on-again, off-again boyfriend (and Aviva's ex-husband) Harry Dubin in tow, the burlesque queen was jealous.
Watching Harry paying attention to brunette beauty Amanda, Sonja snapped to the cameras, "What's mine is mine."