Billy Ray Cyrus: I Don't Know If Miley Will Marry Liam Hemsworth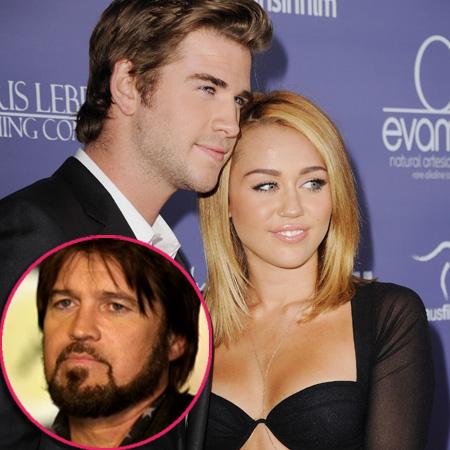 Billy Ray Cyrus says even he doesn't know if his wild child daughter, Miley, will actually take a walk down the aisle with her fiancé, Aussie actor Liam Hemsworth.
The Achy Breaky Heart singer, appearing on ABC's Nightline Monday to promote his new memoir Hillbilly Heart, was asked by journalist Bob Woodruff about the trickiness of writing a book when things can change – specifically when it comes to the engagement of his famous daughter, and Billy Ray's answer was extremely telling.
Article continues below advertisement
"As I was writing the book, I wanted to keep that particular moment as open ended as possible," he candidly replied.
"I didn't know the answer. They're young. They're kids. The great news is they're great friends. They're really, really good friends. If you end up getting married, that's your business too, you know."
When Woodruff asked more directly if he thought Miley would marry Liam, Billy Ray said. "I don't know. I play it by ear. And I know whatever is meant to be, that's the way it's going to happen."
Billy Ray apparently is not alone in his confusion. The young lovebirds' ( Miley's 20, Liam's 23) relationship has been rocky of late, and even the Aussie actor's own family has wondered if the two will make it down the aisle.
Liam's sister-in-law Elsa Pataky, who's married to his brother Chris Hemsworth, 29, recently said she's not sure if Miley and Liam's wedding is still a go.
She said, "I don't know. If they get married it would be nice to go."
Miley and Liam met while working together on the film The Last Song in 2009; they became engaged in May, 2012.
Last week, reports surfaced that the couple's planned June wedding in Palm Springs, California has been put on ice. The couple has yet to publicly announce if the wedding is still on.
|
|