Justin Timberlake, Michael Jackson Hologram & Kendall Jenner Goof Mark Most Memorable Moments Of 2014 Billboard Music Awards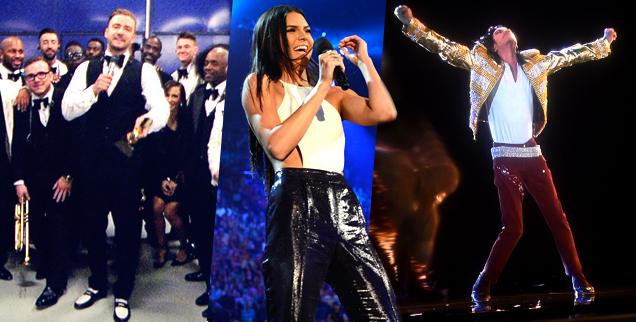 Justin Timberlake's dominance, Kendall Jenner's slip-of-the-tongue, and Michael Jackson's posthumous return to the stage marked the most memorable moments at Las Vegas' MGM Grand Garden Arena Sunday at the Billboard Music Awards.
Timberlake Time
It was Timberlake's night, as the one-time Mouseketeer claimed seven awards on the evening, most notably the top artist and Billboard 200 album. In accepting the honors, Timberlake (via satellite) said, "All the other finalists, Miley, Imagine Dragons, Bruno, Katy, I love you guys, it's not a competition, but if it is, I won! I want to thank everybody on Earth, everybody on Earth, except, except Donald Sterling."
Article continues below advertisement
Watch the video on RadarOnline.com
'Onnnnne …'
Kendall Jenner, serving as a presenter at the event, tripped over her own words, having her own "Adele Dazeem" moment in her introduction of the band band 5 Seconds of Summer. After nearly calling the group One Direction, the 18-year-old fashionista/reality star laughed and admitted, "You guys! I'm the worst reader," inevitably spurring the trending Twitter topic, #kendallyouhadonejob.
Watch the video on RadarOnline.com
Posthumous Performance
Hologram technology in live events took another step forward as a projection of late singer Jackson, flanked by backup dancers, performed "Slave to the Rhythm" in the show, garnering a full gamut of reactions from the crowd, from confused to creeped out to excited. The single comes from his latest posthumous album Xscape, which hit stores last week, and has already claimed the top spot in 50 countries.
Article continues below advertisement
Watch the video on RadarOnline.com
He's Lost Without Her
Robin Thicke took his public groveling over estranged wife Paula Patton to a new level Sunday, thanking the actress "for her love and support and for putting up with me all these years" after he collected the top R&B song award for his hit "Blurred Lines." Thicke's mea culpas were not just limited to speech, but song as well, as he performed his new tune "Get Her Back," with lyrics such as, "I never should have raised my voice or made you feel so small. I never should have asked you do to anything at all. I'll wait forever for you to love me again." The "Give It 2 U" singer wrapped up his performance on his knees.
Watch the video on RadarOnline.com