Hands Off! Beyonce's Bottom Slapped During Concert By Obnoxious Fan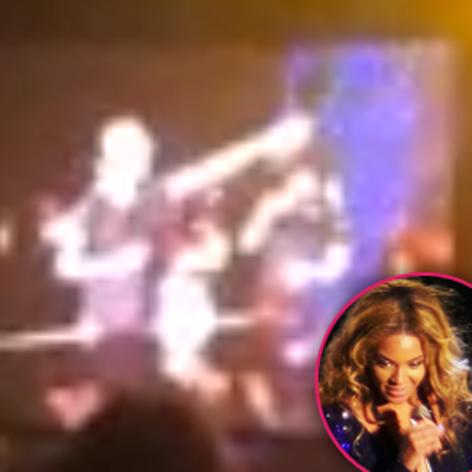 Beyonce got an unwelcome surprise on stage last night when an obnoxious fan reached up and slapped her derriere on stage and RadarOnline.com has the shocking video from the show.
Performing in her Mrs. Carter Show in Copenhagen, Denmark on Monday the singer poured her ample curves into a skin tight blue body suit and was dancing on stage when a man in the audience managed to smack her on the rear.
Jay-Z's 31-year-old wife was not pleased with the groping during her song Irreplaceable and is heard saying to the man: "I will have you escorted out right now, alright?"
Article continues below advertisement
Her world tour has had a rough time when she was forced to cancel her appearance in Antwerp, telling fans she was dehydrated and exhausted, with rumors starting that she was pregnant with her second child.
As RadarOnline.com reported, the singer posted a message on Instagram slamming reports, writing that she couldn't "stop the rumors from starting" and complained about "these low life people who have nothing better to do than talk about me." But she took the post down just a few hours later.