Bethenny Frankel On Being A Single Working Mom: You Don't Complain, You Don't Explain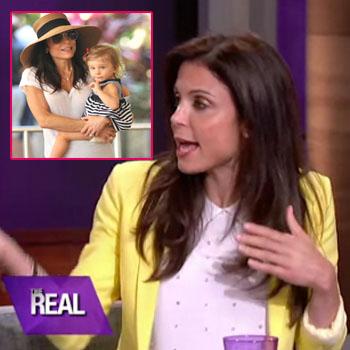 Bethenny Frankel is going through a bitter divorce and a nasty custody battle but she says that her motto for managing her life is: "you don't complain, you don't explain."
The 42-year-old mom appeared on the new talk show The Real where she explained how she's juggling working on her own show and parenting her 3-year-old daughter, Bryn Hoppy.
"It's just like Nike says – you just do it. You have to be organized, what choice do you have? You don't complain, you don't explain," she said matter-of-factly.
Article continues below advertisement
Bethenny said her philosophy is an old fashioned good work ethic.
"I always say pros play hurt. You're tired too bad. I'm so lucky I have such a blessed life. I'm organized, I'm on my game."
She said that she is able to compartmentalize between being a mom and being a talk show host.
"When I'm working I'm working and then the second I'm not working I'm with my daughter and that's all I want to do. It's just quality time.
Bethenny and her estranged husband, Jason Hoppy, have been waging a war over custody of their child, but she said she is always able to focus on Bryn when she's not at work.
"You're not on your Blackberry, you're not distracted, you're not worried about nonsense."
A former Real Housewives of New York City star and now the host of her own talk show, Bethenny said that she recognizes that her job isn't a live or die situation.
"We're not curing cancer. We're doing a talk show."
youtube=https://www.youtube.com/watch?v=Yk6yXM8sr1o&w=560&h=315