Damage Control? Ellen DeGeneres Appears on 'Bethenny' To Declare She's Not 'Distancing' Herself From Ratings-Starved Talk Show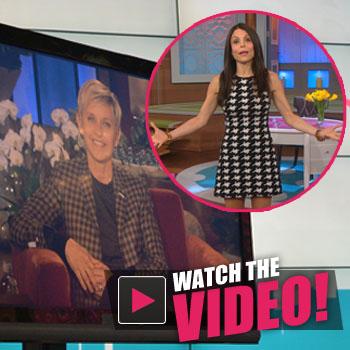 Trouble in the talk show world? Bethenny Frankel's struggling television show is bringing out the big guns on Wednesday with her good friend Ellen DeGeneres to shoot down RadarOnline.com's exclusive report about their fractured relationship, but she doesn't actually address our scoop on the show.
Ellen appears via satellite from Los Angeles in Bethenny's New York studio and tries to set the record straight about their business partnership and friendship.
Article continues below advertisement
"Let me say this because I only hear about this stuff I don't really pay attention to what's in the press but I did hear that there was a story that I was distancing myself from you and from the show and I wanted my name off of the show and I think people think, as Andy Cohen said on your show the other day, that there is always a tiny bit of truth to any rumor that you read," Ellen started explaining to the audience.
"There is absolutely not one crumb of truth in that at all. I am not distancing myself from your show, I love you. I am so proud of you. I am proud to have my name on it and I think that you are amazing and we are friends."
radar_embed service=5min.com src="http://pshared.5min.com/Scripts/PlayerSeed.js?sid=1126&width=570&height=351&playList=517972801&sequential=1&shuffle=0"
However, what RadarOnline.com previously reported was that Bethenny was angry with Ellen's lack of support when it came to helping her book guests.
Article continues below advertisement
"During Bethenny's trial run, DeGeneres pulled some strings and got Justin Bieber to come on. DeGeneres' former booker is now working for Bethenny but he's been unable to get Sandra Bullock, Gwyneth Paltrow or Miley Cyrus. The big name celebrities don't want to go on a talk show hosted by a former Bravo housewife. It's causing major drama behind the scenes of Frankel's show, which is struggling in the ratings," the source said about the talk show hosts' relationship.
Ellen explained to the audience how fond she is of Bethenny and how supportive she is of her show.
"I love you and it's ridiculous that people are trying to make stories about this because I think you are doing great…I am just going to compliment you as much as I can right now because I want people to understand you are, there is no one doing what you are doing on television right now. You really represent women and talk to women and give women advice in a way that nobody is doing and I love listening to your advice."
Article continues below advertisement
A true comedian she cracked a joke about Bethenny's advice. "I don't know what the hell you are talking about most of the time because you know. You are talking about stuff that is necessary and I think the more you get to have this platform and help women and talk about things that you can help them through. It's also a safe place, a lot of women go there and talk to you and reveal things that they wouldn't do on other shows."
As RadarOnline.com has previously reported, a judge has banned Bethenny from talking about her divorce, but Ellen managed to get some digs into Jason Hoppy, Bethenny's estranged husband, whom she accidentally called her "ex-husband."
"You can't really talk about what's going on in your life right now and I know that," Ellen revealed.
"I know what's really going on and I know that's really hard for you to not share how difficult a time this is for you. That's weird because you do share everything with your audience but you are not allowed to talk about your divorce so I'll just leave it at that."
Bethenny's exclusive interview with Ellen will air on her show Wednesday, October 16th, 2013. Please visit bethenny.com to find out when and where it airs in your city.