I'm Not Holding A Grudge! Ben Affleck Forgives Academy For Best Director Snub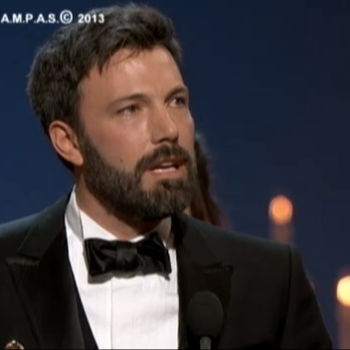 Argo f**k yourself Academy! Ben Affleck was snubbed at the 2013 Academy Awards for a Best Director nomination, but all was forgiven when his movie Argo won Best Picture, and he admitted that he definitely isn't holding a grudge.
The dashing director took the stage to accept the Oscar, and said that he isn't mad for being left out of the nominations.
"You can't hold grudges," Ben said to the audience. "It's hard but you can't hold grudges."
Article continues below advertisement
He had been the butt of host Seth McFarlane's joke during the opening of the 2013 Academy Awards, but he was gracious on stage with the Argo team, and of course he thanked his wife, Jennifer Garner.
"I want to thank you for working on our marriage for 10 Christmases," Ben gushed to his wife, saying that marriage to her was work, but "it is the best kind of work. There is no one I would rather work with."