Kyle Richards: My Nephew Barron Hilton Is The 'Most Gentle Soul;' Says He Didn't Fight Back Against Alleged LiLo Thug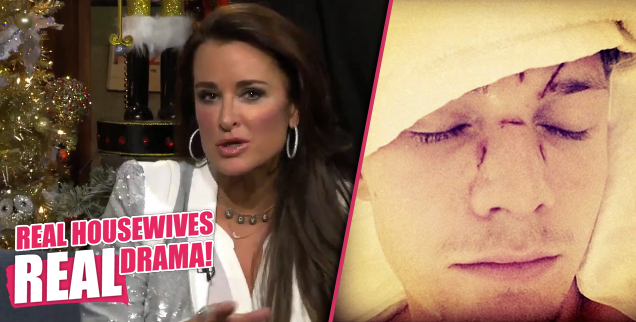 Article continues below advertisement
"Apparently that's what happened," Kyle said. "Allegedly -- obviously I'm going to say, cause I wasn't there -- I'm going by what you guys here, and what my family tell me. Allegedly, Lindsay called the hit on my nephew and he was beaten up.
"And he is the most kindest, gentle soul you ever met: He would not lift a finger against anyone."
"Were they like lovers, or something?" Andy asked Kyle, who said that they were not, but rather that the incident was spurred on by Barron's admitted trash talk on Lohan prior to the ambush.
"He made a comment against her that wasn't polite, and she went up and said, 'Want to speak against me? This is what you get,'" Kyle said. "And these people jumped him and beat his face. I just saw him the night before I arrived here and he was all broken -- his face."
"I said, 'I can't even imagine you even fighting back, because you're such a gentle person,'" she said. "He said, 'I didn't fight back.'
"I almost cried when I saw those pictures."
Watch the video on RadarOnline.com
As we previously reported, police said Hilton suffered injuries to his nose and forehead after his attacker hit him with an object, and darted off in an SUV.