Back Off My Botox – Bethenny Frankel Tells Doc Who Criticized Her Face To 'Shut Your Pie Hole!'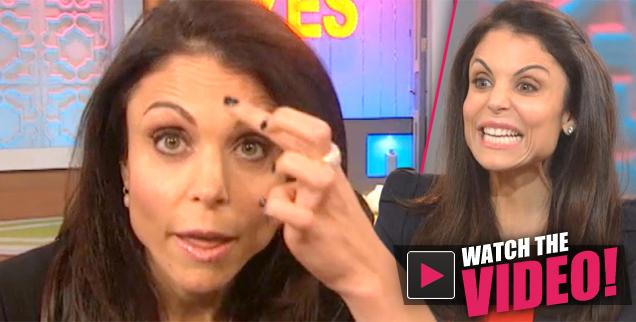 Bethenny Frankel has one thing to say to the doctor that says she's had too much Botox – shut your pie hole!
The outspoken talk show host ripped Park Avenue physician Dr. Robert Guida in a hilarious rant and RadarOnline.com has the video of her talking about the Botox face fixer she's definitely done before.
"I have a new boyfriend and he has botched me up. Yes, bloggers who have no idea what they are talking about are writing that I have a new boyfriend named Botox, who has really botched me up. Folks I am here every day, 57th and 11th where the pink awning is, as long as they'll let me do a show I'm here, if you want to come here, you can ask."
Article continues below advertisement
Bethenny, 42, showed a scary picture where her eyebrows are arched and her skin looks particularly smooth.
"Yes, that's the picture that they posted because I make the face every day of course. So I just want to show you something. That's that. Those are my wrinkles in my forehead, these are these guys over here.
"Now, I am not saying I haven't ever done Botox," she admitted.
radar_embed service=5min.com src="http://pshared.5min.com/Scripts/PlayerSeed.js?sid=1126&width=570&height=351&playList=517952751&sequential=1&shuffle=0"
"I am not saying I wouldn't do Botox but I am not doing Botox on the regular because I am not one of those people that walks up to a mirror and says, 'Hmmm, let me look at myself, let me see what I need to fix, let me see what I can do.' That's not really me and I believe in everything in moderation. If you want to do something to make yourself feel good do it. Of course, take precautions, ask your doctor, read up on something.
Article continues below advertisement
Although she's got a killer figure and her Skinnygirl drinks line, Bethenny says she doesn't live a totally organic life.
"You want to know what you are doing. But I eat Cheetos, I use artificial sweeteners, I don't do it all the time, once in a while and that's what I believe in, balance.
Bethenny then challenged the doc who criticized her face.
"So, Dr. Guida. Okay, Dr. Robert Guida is the one who commented on my face. A. I've never met you. B. You're not my doctor. C. Shut your pie hole and go back to your corner. If you are going to write it come up to the pink awning and say it to my face bizzitch, okay? Say it to my wrinkled face!"
Bethenny's take down of the doctor will air on Wednesday, October 2nd, 2013, please visit bethenny.com to find out when and where it airs in your city.