Who Brought The Judges To Their Feet On American Idol?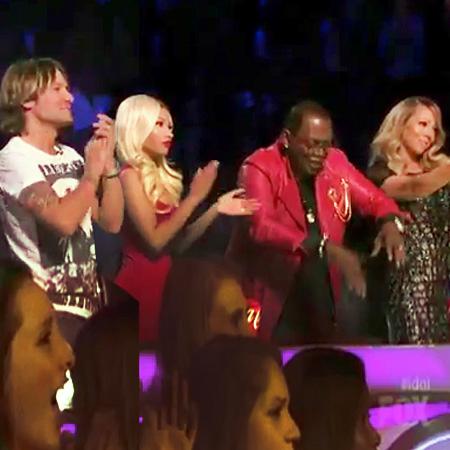 The five female finalists took the stage on Wednesday's edition of American Idol, and while many had performances that brought judges Keith Urban, Mariah Carey, Randy Jackson and Nicki Minaj to their feet, only one had the entire quartet cheering in unison.
SPOILER: Which Contestant Received A Standing Ovation From All Four Judges?
It's a tough field, but Candice Glover continues to hold her own.
The 23-year-old Beaufort, S.C. native again won over the judges, getting a standing ovation for her rendition of When You Believe, a 1998 duet from Carey and the late Whitney Houston that Randy dubbed "the best vocal of the night.
Article continues below advertisement
"You are so in the zone," Randy said, before taking a stroll down memory lane. "It's so funny you sang that song. They won an Oscar for it. I remember being there, seeing it live, with her and Whitney singing on stage at the Oscars."
Mariah, welling up, told Candice she feels she "could sing anything in front of anybody, anywhere.
"I don't want to break down and cry here because it does remind me of the moments Randy was just discussing and, yes, rest in peace to the great Whitney Houston," she said. "I think you did her justice."
"That was such a great version of that song," Keith beamed. "Your vocals are incredible … you really set the bar high for all the other girls, baby."
Watch the video on RadarOnline.com
Elsewhere Wednesday, many of the cast referenced Monday's bombing at the Boston Marathon, with Ryan Seacrest prefacing the show saying, "Before we start tonight, we do want to send our support to everyone affected by this week's tragic events in Boston; with heavy hearts, we're going to put on the best show we can for you this evening."