Four Knockout Singers, But Who Was 'The Best Of The Night' On American Idol?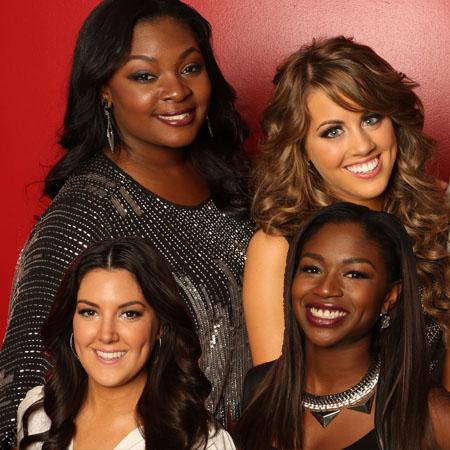 It was another strong night for the final four contestants on American Idol Wednesday, with one simply owning the night, while another had the judges crowing about how she's stepped up her game as the competition progresses.
SPOILER: Who Stood Out The Most Wednesday?
On a night the singers individually performed twice -- one song of their choice, and the viewer-voted "One-hit wonder" theme, it was Angela Miller's time to shine. (The ladies also performed a third time – in pairs.)
Article continues below advertisement
The 19-year-old from Beverly, Mass. dominated with her rendition of Julie London's Cry Me a River, causing Randy Jackson to proclaim her performance "the best of the night.
youtube
wins the night, hands-down," the veteran judge said -- a point concurred by Nicki Minaj, who told Angela, "Tonight was your night.
"You came out tonight to snatch some wigs off some heads!" the Super Bass singer said, while Keith Urban described the act as "mystical and celestially powerful."
Randy also called Angie's rendition of Jessie J's Who You Are "sheer perfection" and "a 10 out of 10 out of 10."
And while it might have been Angela's night, Amber Holcomb had her strongest showing yet with a cover of Richard Harris' MacArthur Park.
youtube
Article continues below advertisement
Nicki told her, "You're blooming for the world to see -- out of the four girls in the competition, you're the one I would want to get to know."
Randy also noted the breakout showing, telling viewers, "If y'all don't know who Amber is, y'all should know tonight that she's in it to win it!"
Elsewhere, Candice Glover might have been a victim of her own success Wednesday: Her performances in recent weeks have been so good, the judges' expectations are getting harder to live up to.
Performing Drake's Find Your Love, the 23-year-old Beaufort, S.C. native -- who said she was nursing a "terrible cold" -- was called out by Randy for her inability to make adjustments.
youtube
vocals are crazy good but doesn't mean that you have to use it all the time, full-on," he explained. "It can't always sound like you're in church."
youtube
rebounded with her second song, the Bee Gees' Emotion, as Mariah classified the performance as "super-duper-superstar quality."
Watch the video on RadarOnline.com
Kree Harrison also remains in the competition; we'll see who gets the boot when American Idol's 12th season continues Thursday on Fox at 8/7c.