American Idol: Emotions & Tears Flow As 3 Finalists Return Home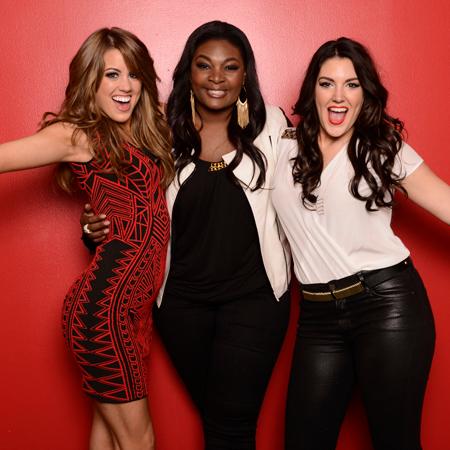 Tears flowed on an emotional edition of American Idol Wednesday night, as video packages of finalists Kree Harrison, Candice Glover, Angela Miller returning to their hometowns aired, with one contestant particularly emerging as the frontrunner.
SPOILER: Who Was Wednesday's Standout?
In addition to the video packages showcasing the humble beginnings the contestants have emerged from, each contestant had to sing three songs: one chosen by producers, one from the judges and one from music exec Jimmy Iovine.
Article continues below advertisement
And on the crucial night, the consensus was that Candice Glover's star shined brightest.
Candice, who sang Emeli Sande's Next to Me and U2's One, got the ultimate endorsement from judge Keith Urban after her rendition of Somewhere from West Side Story.
youtube
"If you want to vote for Candice, dial the number on your screen," the hunky Aussie said. "If you don't, call your doctor."
Randy Jackson noted that Candice already "had one of the greatest vocals in Idol history.
"Guess what? She had another one! You are such a pro," he said. "It was so incredible: This was like a singing lesson. Oh my God, I'm so proud of you!"
Of all the appraisals, it might have been Iovine's to put the bow on the star-making evening for Candice.
"Anyone who can take Somewhere -- a song that's ingrained in everyone's head -- and add your own soul and feeling to it and own it like that," he said. "Candice, you didn't win the round with that song, you won the night."
Article continues below advertisement
In her hometown segment, Candice went back to her humble hometown of Helena Island, S.C., where the day was named in her honor.
youtube
A moved Nicki Minaj was nearly wordless after seeing Candice' journey.
"That video was so emotional and so hard for me to watch," she said. "You have come out swinging in this competition. I have to tell you that I am so proud of you … congratulations.
"Women suffer from so much insecurity about who they are and how they look and I have to say you seem to be the most confident woman on that stage every single night, and I love that about you."
Woodville, Tx. native Harrison had an emotional backstory as well, as her parents died in separate accidents when she was younger.
youtube
Harrison -- who sang Rascal Flatts' Here Comes Goodbye, Pink's Perfect and The Band Perry's Better Dig Two Wednesday -- moved Mariah Carey to tears with her harrowing past.
"I can't discuss the video," the Vision of Love singer said. "I'm overwhelmed with emotion. I'm so in awe with the purity of you. There's something just so real about you."
Article continues below advertisement
Keith told her after she sang Here Comes Goodbye, "It was a lot coming out of that video and going into that song.
"It was the perfect song for you -- you sang it just right, you felt it just right," he said. "And you had me from beginning to end. God bless you."
Miller, a Beverly, Mass. native who sang Elton John's Sorry Seems to Be the Hardest Word and Sande's Maybe on the night, went over huge with her rendition of Pink's Try.
Nicki told her, "You have never looked so comfortable doing an uptempo song in your life -- you believed every single word."
youtube
She also got big kudos for singing Maybe, as Randy told her, "You sang your heart out right there! I think tonight you became a complete performer."
"Your growth has surpassed my expectations," Nicki told her. "You're emotionally connecting every time now."
Watch the video on RadarOnline.com
American Idol continues Thursday on Fox at 8/7c.