Starstruck Hopeful Shocks Judges With His Performance On American Idol!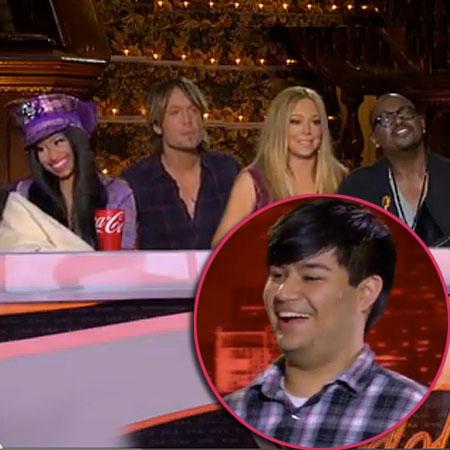 American Idol's 12th season ventured out west Wednesday, as judges Nicki Minaj, Mariah Carey, Keith Urban and Randy Jackson assessed local talents in San Antonio, Texas, and Long Beach, California, coming up with a potential front-runner in the competition in Adam Sanders.
While the tension between Nicki and Mariah has grabbed the headlines in the season's early going, Sanders and a few other memorable auditions took back the spotlight on Wednesday's two-hour episode.
Article continues below advertisement
PHOTO: Nicki Minaj Has Onstage Wardrobe Malfunction
From the start, Sanders looked like a nervous, starstruck Carey fan -- he called her, his "Ultimate hero" -- who'd be comic relief for the broadcast.
Instead, Adam amazed Carey and the rest of the panel with a booming version of Etta James' I'd Rather Go Blind.
"You just shot whole thing! You shocked all of us dog!" Randy said, as all four judges applauded the 19-year-old San Antonio native.
Mariah's vote was "Obviously, yes" for the talented soprano to go to Hollywood, which the other judges unanimously agreed with. (Jackson, Carey and, Urban even gave him a standing ovation!)
youtube
Victoria Acosta, a pretty 20-year-old mariachi singer from San Antonio, delivered a rendition of Fergie's Big Girls Don't Cry that left the judges unsure if she was up to the task; after she demonstrated impressive vocal range singing some mariachi, they gave her a pass to Hollywood.
Article continues below advertisement
"That's the connection we were looking for!" Randy told her.
youtube
Nineteen-year-old Jackson, Mississippi product Papa Peachez coasted by with charisma, and a huge patron in Nikki, after he sang a gospel-esque original song.
"Peachez, I think that you are a superstar -- love the song, loved that you wrote it, loved that it was something only Papa Peachez could sing," Nikki told him.
youtube
While the other judges didn't share Nicki's immediate enthusiasm -- Randy and Keith said no, while Mariah granted "a small yes" -- Nicki eventually persuaded Randy to change his vote, getting him the ticket to Tinseltown.
Watch the video on RadarOnline.com
American Idol's 12th season continues Thursday on Fox at 8/7c.