Amazing -- And Awful -- Performances On American Idol, As Top 6 Take Stage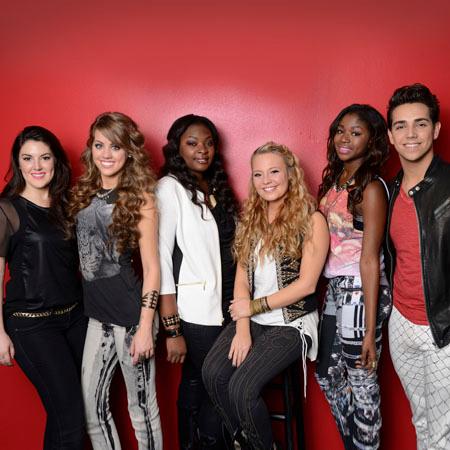 It was the best of times and the worst of times -- in terms of performances -- on Wednesday's edition of American Idol, as the six finalists took the stage to perform two songs -- one written by iconic songwriters Burt Bacharach and Hal David, the other a song they wish they had penned.
SPOILER: Who Was The Best? Who Was The Worst?
Candice Glover emerged as the favorite among the final six, belting out a rich rendition of The Cure's Love Song that Randy Jackson called "one of the greatest performances in the history of 12 years of American Idol."
Article continues below advertisement
The praise didn't stop there: Keith Urban raved, "It was crazy -- it was one of those moments when all the stars line up, and I agree with Randy that is one of the best performances in American Idol history!"
On the other end of things, Lazaro Arbos -- the only boy left in the competition -- again stunk it up, as the 21-year-old had the judges shaking their heads at the lack of fundamentals shown in his rendition of The Carpenters' Close To You.
Randy told him, "I am kind of speechless -- you know I love you the person, you are an amazing guy, your story inspires us all but all I can say is, 'No, no, no.'
"That was horrible: That was the worst performance you have ever had on the show!" the music industry vet said, later agreeing with Keith's assessment that the competition is a "girls' race" at this point.
Mariah Carey reminded Lazaro, "At this stage in the competition, there can't be a key change and you stay in the old key -- that is the end of the song."
Nicki Minaj didn't even give Lazaro a review, telling the Naples, Fla. native, "Let's pretend I gave you my comment, because honey child, we will be here till tomorrow!"
Watch the video on RadarOnline.com