Alexis Bellino Blames OC Housewives' Bullying For Her Xanax Use!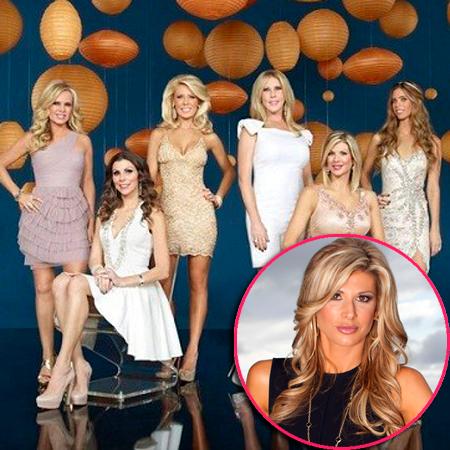 Tamra Barney's dinner party from hell continued on the Real Housewives of Orange County when Alexis Bellino blamed her use of the prescription anxiety medication Xanax on her fellow housewives' constant bullying, and RadarOnline.com has the details.
Alexis threw the word 'bullying' around a lot on Monday's episode, but new housewife Lydia McLaughlin wasn't going to stand for it.
"I don't know the whole situation or anything that's happened, but I understand where they're coming from when you throw the word bully out," Lydia said to Alexis.
Article continues below advertisement
"I think that they were just trying to say their point of view, and I don't think they were bullying you. For you to say that is such a huge thing to say. People commit suicide…"
"I had to go on Xanax for it, Lydia!" Alexis snapped.
"Is that not enough when you have to freaking take medication?! I've never in my thirty five years felt so much hate and so much intentional cruelty."
Lydia continued her argument that Alexis was unfairly using the term 'bullying' saying, "But for you to say that word 'bullying,' people kill themselves when other people are bullying them."
"So someone has to die?" Alexis dramatically asked. "So I need to go home and slit my wrists?"
Lydia soon realized that she was getting nowhere with Alexis, and she revealed her true feelings about the situation to the camera.
"Do I think that they were all going at her at the same time? Of course," Lydia confessed. "Do I think that she was being bullied? Absolutely not."
Fellow housewife Gretchen Rossi wasn't falling for Alexis' pity party either.
Article continues below advertisement
"You guys had an opinion about me. I chose to come and hang out with this group. I am not a young kid on a playground being forced to do something against my will," Gretchen said to the dinner guests.
"She chose to come here. So if she doesn't want to get addressed about all the stuff that she's said about us, then don't walk into the door!"
And when Tamra informed the ladies that Alexis was claiming she had to go on Xanax because of their 'bullying', Heather Dubrow really took offense.
"There are many people who need to be medicated in this world, for many reasons, and her little rich girl problems aren't one of them," Heather said.
"If someone is under psychiatric care and taking psychotropic drugs because they are so upset about being around a group of people, why would you put yourself in the position to go be around those people again?"
However, Alexis was determined not to let the ladies get the best of her.
"I have God on my side," Alexis proclaimed. "So you can't fight that."
Tune in to the Real Housewives of Orange County Monday nights at 8/7c on Bravo.