'Shame On You!' Adrienne Maloof And Brandi Glanville Face Off In Latest RHOBH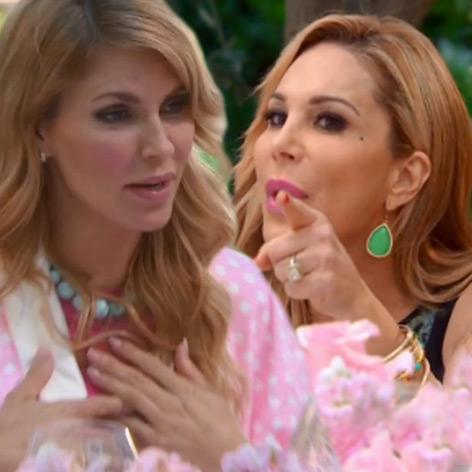 It was supposed to be a quiet tea party to let The Real Housewives of Beverly Hills stars clear the air.
But what happened instead was an all-out war of words between rivals Brandi Glanville and Adrienne Maloof.
Listen! 'RHOP' star Wendy Osefo breaks down the "most intense fight in the show's history" in under 2 minutes.
RadarOnline.com has a sneak peak of Monday night's episode in which the two women are at loggerheads about lawsuits and insults that Brandi may or may not have posted on her Twitter page.
Article continues below advertisement
The disagreement heats up when Adrienne, 51, says to Eddie Cibrian's Twitter-happy ex: "You weren't on Twitter…accusing somebody in my camp…of allegations that were absolutely false?"
Brandi says: "No I haven't. They were 100 percent true. I have proof of it."
The 40-year-old later explains herself telling the camera that Bernie Guzman – the former chef of Adrienne and her ex-husband Paul Nassif – is at the center of the dispute.
She says: "Adrienne and Paul's chef Bernie called several media outlets and said that I'm a bad mother, that I drink in front of my children.
"And I told her about this on the phone. I said: 'Bernie's doing f***ed up things. And she's like: 'If that's true we'll fire him'. They never fired him."
But at the tea party Adrienne says: "You don't accuse Bernie. That is absolutely wrong.
"Shame on you. How dare you do that?"
Bizarrely the two women even disagree about whether Adrienne is suing Brandi. Adrienne says she's not but Brandi says she has the legal fees to prove it.
In the end she accuses Brandi of being manipulative, saying: "Shame on you for being so calculating."
The Real Housewives of Beverly Hills airs Mondays on Bravo at 8/7c.