Aaron's Shame! Carter's Sister Arrested For DUI Twice In 5 Years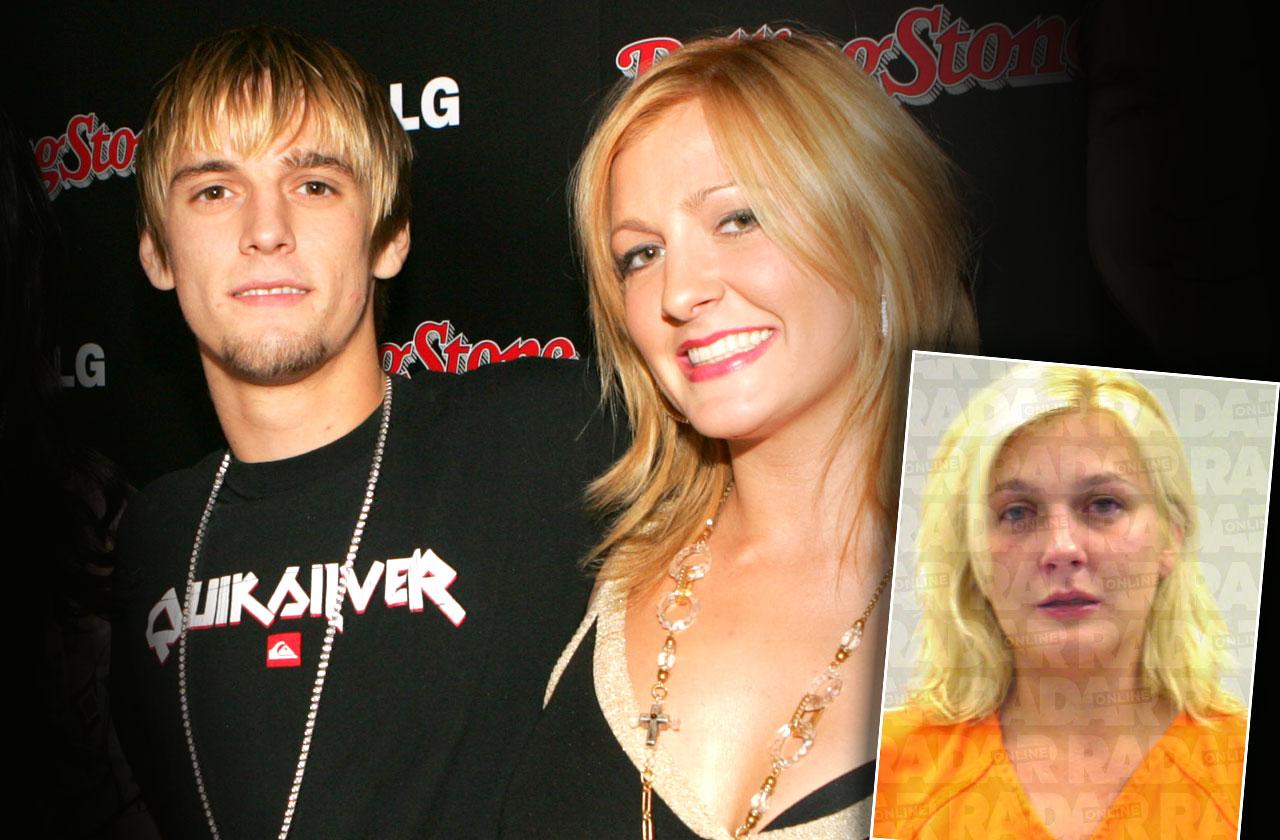 Aaron Carter's troubled sister Bobbie Jean was arrested for DUI twice in five years, RadarOnline.com can exclusively reveal!
Bobbie Jean, now 35, was first arrested in 2003 after a citizen called to report her erratic driving. The reporting officer noted that when they arrived to the scene, they "observed the vehicle almost strike the retaining wall on the bridge," according to Monroe County, Fla. sheriff's department documents obtained by Radar.
Article continues below advertisement
The office pulled Bobbie over after she continued to weave, and asked for her license and registration. "'Why do you guys always have to mess with me?'" she asked the officer as she refused to produce the documents.
"As the driver was looking around in the glove box, I smelled a strong odor of alcoholic beverage coming from the vehicle," the officer reported. "The driver finally stated that she didn't have the registration or insurance with her." At that point, the officer asked her to perform field sobriety exercises.
"Miss Carter exited the vehicle and stated she would submit to the field exercises," the officer continued. "The first exercise I explained to Miss Carter was the HGN. Miss Carter stated she understood the instructions. During the exercise Miss Carter could not follow my pen with her eyes. I then asked Miss Carter if she understood the directions explained to her, which she replied, 'yes.'"
But, Bobbie refused to cooperate and follow directions. The officer tried to have her stand on one leg, but she couldn't finish that exercise as well. She was ultimately arrested after she failed to walk heel to toe.
Article continues below advertisement
The officer then called for backup, and Bobbie began to hyperventilate. Her handcuffs were moved from behind her back to in front of her, and medics were called to treat her.
"Upon arrival at Fisherman's Hospital, Sgt. Campbell and I entered the emergency room," the officer said. "During the evaluation I heard Miss Carter yelling at which time I entered the area where she was at and observed Dep. Cervantes and several hospital employees attempting to restrain her."
Bobbie was released after the officer told the employees that they had no legal ground to get a blood sample from her yet, but she "continued to yell at us."
She was then given a Breathalyzer test and blew .156 and .150. She was issued citations for DUI and following too closely at that time, and "when Miss Carter was signing the citation for following too closely she wrote 'F**K' on the line that she was supposed to sign and then signed her name over the word 'F**K.'"
Article continues below advertisement
She was placed on probation after the arrest, but found herself in a similar situation in 2008 when someone called to report a "reckless" driver at a McDonald's drive thru.
An officer arrived to scene to pull her over, and "immediately detected a distinct odor of an alcoholic beverage about her breath," according to Hernando County Sherriff's Office documents obtained by Radar.
"She had bloodshot, watery eyes and extremely slurred speech," he noted. "Bobbie first denied consuming alcoholic beverages; however, I informed her that by the indications it was readily obvious that she had indeed consumed alcoholic beverages. Bobbie spontaneously stated that she knew she should not have been driving."
She then failed her field sobriety tests and was placed under arrest for DUI.
"As we began walking towards my vehicle, Bobbie stopped at her vehicle because she wanted to see her dog," the officer added, noting that he informed her that they could contact someone to pick up the pooch. "Bobbie either refused or was unable to tell us who to call."
Finally, a second officer was able to locate Bobbie's boyfriend, and he made arrangements to get her car and her dog. Bobbie's friend Kerri arrived to the scene shortly after, and asked the officer to "give Kerri a message."
Article continues below advertisement
"Bobbie went on that she needed to talk to her personally about her work, her mother and several other issues," the officer noted.
She was then taken to a local jail and "became upset" as she "would be come claustrophobic if she was brought into jail." She refused to leave the car and instead of standing, she "went to her knees and fell purposely on the ground." The officer picked her up and led her inside.
"Once inside the jail, Bobbie began crying, saying that she was beat up," the officer reported.
Bobbie refused to take a Breathalyzer test afterwards, instead "showing the camera her knees."
"Bobbie was later seen sitting on the bench in the booking area, scratching at her knees in an attempt to make them look injured, " the officer said.
She was then booked and given a $1,000 bond. She was ultimately sentenced to seven days in jail and given a probation sentence, according to court dockets.
Article continues below advertisement
Radar previously reported that Bobbie Jean was arrested for battery in 2002 after she attacked two women in Monroe County, Fla. She claimed she was protecting her sister, Angel, but a court ordered her to complete anger management classes and a substance abuse evaluation and treatment.
Meanwhile, Aaron, 29, checked himself back into rehab  earlier this week. He first entered a facility in September after testing positive for opiates on The Doctors.
Stay with Radar for more.
We pay for juicy info! Do you have a story for RadarOnline.com? Email us at tips@radaronline.com, or call us at 800-344-9598 any time, day or night.