A Fan Throws A Shoe At Harry Styles And Hits His Groin! (Was It Taylor Swift?)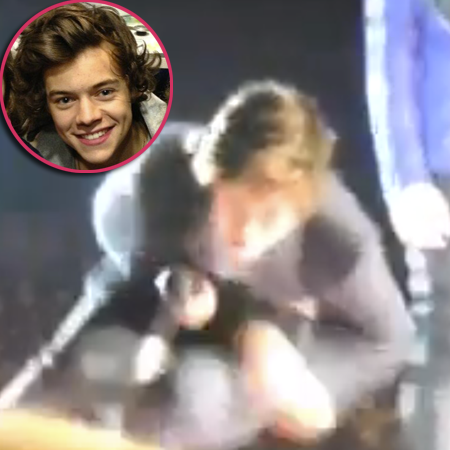 It's only Wednesday, but Harry Styles is already a shoo-in for most viral clip of the week, painful as it might have been.
The One Direction singer (and Taylor Swift ex) buckled over in pain after a fan launched a shoe at the stage -- hitting him square in the groin -- during a show in Glasgow, Scotland on Tuesday night, and we've got the cringe-worthy clip for you right here on RadarOnline.com.
At first, Harry, 19, caught a shoe one fan launched onto the stage, but the second incoming shoe hit him, causing him to double over on the ground in pain. After a few moments to let the shock wear off, Harry rebooted and continued on with the gig.
Article continues below advertisement
As we previously reported, Taylor famously broke up with Harry in January after just two months together.
Watch the video on RadarOnline.com
Taylor, known for turning her failed romances into Platinum material, jabbed the boy bander at the Grammys this year during her performance of We Are Never Getting Back Together when she began speaking in an over-the-top British accent, saying: "So he calls me up and he's like 'Ah still louve you' … and I'm like 'I'm sorry, I'm busy opening up the Grammys…and we are never getting back together!'"