Jane Lynch Pays A Controversial Tribute To 'Beautiful Soul' Cory Monteith At Emmy Awards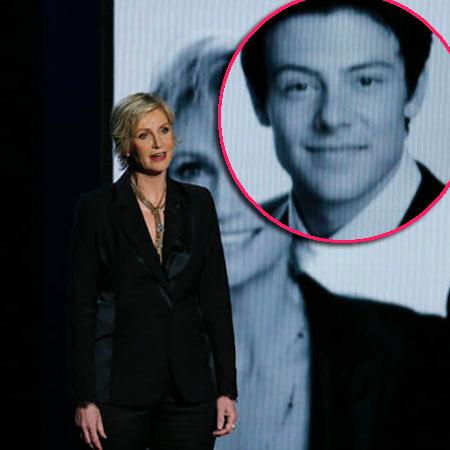 Jane Lynch fought back tears at the Emmys to pay tribute to her co-star Cory Monteith, calling the late Glee actor a "beautiful soul," who was "not perfect."
Her comments come amid a heated debate that has dogged Hollywood for days, about the decision to pay a special tribute to the late actor who died of a heroin overdose this summer.
The actress seemed to directly answer those critics who said it was in poor taste to pay homage to the 31-year-old while ignoring legendary actors like Dallas star Larry Hagman and Quincy's Jack Klugman who also died in the past year.
Article continues below advertisement
Cory Monteith Tribute - Emmy's 2013 by IdolxMuzic
Speaking of the "painful death" that the Glee family suffered, she said: "From the first time you saw Cory he had a star quality and a genuine sweetness that made it impossible not to fall in love with him…"
"And I'm here to say that all that warmth and that charm – that openhearted quality that we loved in Cory – was no act.
"Cory was a beautiful soul. He was not perfect, which many of us here tonight can relate to."
Acknowledging his substance abuse problems, she said: "His death is a tragic reminder of the rapacious, senseless destruction that is brought on by addiction.
"Tonight we remember Cory for all he was and mourn the loss of all he could have been."
Jane also seemed to defend her co-star, saying the "gifted and wonderful young man" was "worthy" of his fans' love.
She praised his "goofy, breezy sense of humor, his natural instinct for inclusiveness and his unbridled sense of generosity."
As RadarOnline.com previously reported Klugman's son Adam slammed the Emmy organizers for their decision.
He told the Associated Press: "They're celebrating this self-inflicted tragedy instead of celebrating the life of my father, who won three Emmys…"