Drowning His Sorrows! Blake Shelton On Booze Bender After Miranda Lambert Split -- Friend Reveals How She's Coping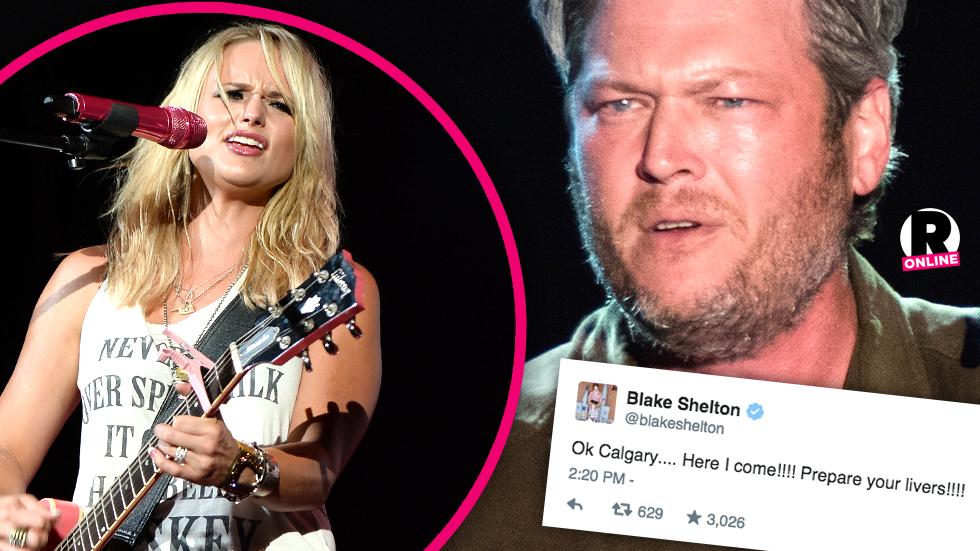 Blake Shelton is handling his divorce from Miranda Lambert the same way he spent most of their marriage: with a drink in hand! After the unhappily married couple of four years announced their divorce this morning, RadarOnline.com has learned from a close friend of Lambert's that as Shelton hits the bottle to drown his sorrow, the 31-year-old blonde country superstar has taken quite the opposite approach. Click through these 10 photos to learn how they're each dealing with the split.
Article continues below advertisement
Just three days ago, Shelton went on Twitter to glorify his drinking, admitting he might be so drunk he couldn't see by the end of the night.
However, Lambert is taking the high road. Monday morning, she continued to promote her current tour amid divorce news, and a close friend of Lambert's tells RadarOnline.com exclusively, "Miranda is doing well right now and focusing on her music and her animals."
Article continues below advertisement
The 39-year-old The Voice star was caught tweeting at a female fan.
Just yesterday, Lambert posted this photo with the caption, "So excited to be in Cheyenne today! Ready to rock Frontier Days!"
Article continues below advertisement
The former country couple, who married in 2011 in front of 550 of their closest friends, have been plagued with accusations of infidelity for most of their tumultuous marriage. Sadly, Shelton seems to have chosen the alcohol in the end over the love of his life.
A few weeks ago, from June 29 to July 5, Lambert opened up for Shelton in a series of shows that had everyone assuming they were back on solid ground.
Article continues below advertisement
"Miranda is an incredibly strong woman and will get through this," the pal tells RadarOnline.com.
According to the close friend, "Miranda just wants this transition to be as smooth as possible for her and Blake and both of their families and friends."
Article continues below advertisement
Three weeks ago, Lambert posted "Over You," which was a song that she the couple wrote about Shelton's brother who died tragically when he was young. Coincidentally, as RadarOnline.com previously reported, she really was over him at that time.
But Shelton is clearly moving on as well!