Aaron Carter Flaunts New Face Tattoo & Bong Video Amid Shocking Downfall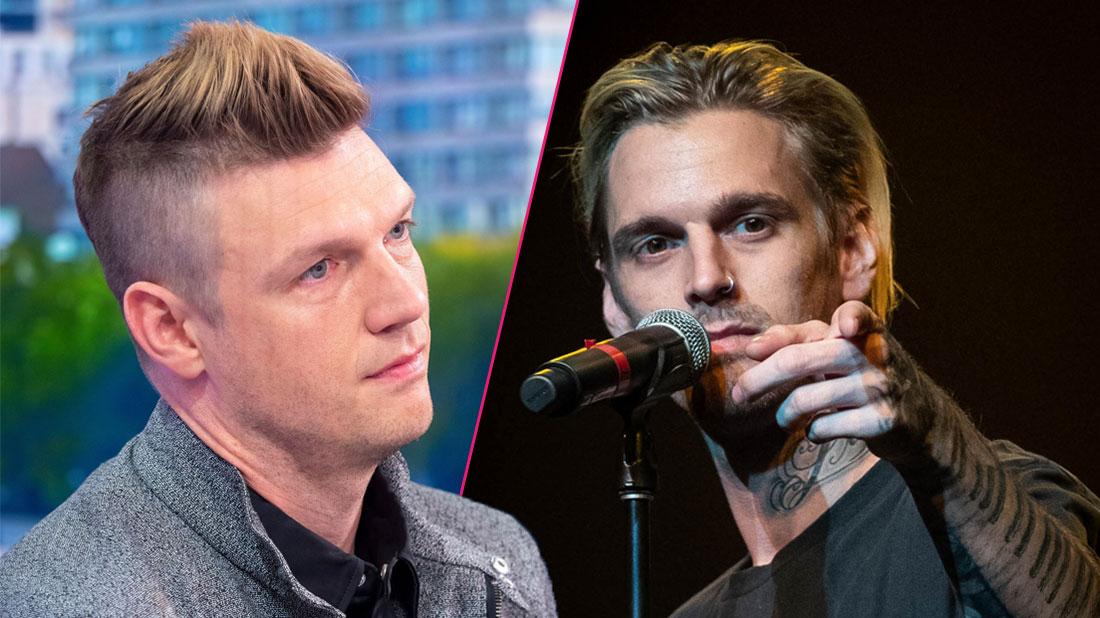 Troubled Aaron Carter has posted photos of his new face tattoo and video of a bong amid his family drama.
On Saturday, September 28, the singer, 31, posted a couple of selfies on Instagram which showed a huge new tattoo covering his jaw, cheek, cheekbone, temple and under his eye.
It's believed to be the Greek mythology monster Medusa, who has the power to turn people to stone just by looking at them.
Article continues below advertisement
Was it a message to his siblings Nick and Angel during their feud?
Aaron has many other tattoos on his body but this is his first facial ink.
He wrote as a caption to the shocking post, "IM THE BIGGEST THING IN MUSIC RIGHT NOW. I CANT BE DENIED. FACT CHECK ME. #unstoppable #LMG #SilenceBreaker."
As RadarOnline.com readers know, Aaron has been feuding with his older brother Nick, 39, and twin sister Angel.
First, Aaron shocked fans on the TV show The Doctors by sharing that he's been diagnosed with multiple personality disorder, schizophrenia, acute anxiety and manic depression. Aaron revealed he's taking prescription medications.
Then on Tuesday, September 17, Nick claimed he and Angel had to take action against Aaron, writing online, "After careful consideration, my sister Angel and I regret that we were required to seek a restraining order against our brother Aaron today.
Article continues below advertisement
"In light of Aaron's increasingly alarming behavior and his recent confession that he harbors thoughts and intentions of killing my pregnant wife and unborn child, we were left with no choice but to take every measure possible to protect ourselves and our family. We love our brother and truly hope he gets the proper treatment he needs before any harm comes to himself or anyone else."
Nick reportedly was granted a temporary restraining order on Monday, September 16, and it's in effect until Oct. 16. Whether a permanent restraining order will be put in place will be determined in a future court date.
Article continues below advertisement
Aaron blasted back via Twitter, writing, "So my brother just got a restraining order against me. And I was just served lol."
Later, he tweeted, "Take care. @nickcarter we're done for life. I haven't seen him in four years. And I don't intend."
Now Aaron has gone on another social media tear that includes a dramatic fresh tattoo.
Scroll through Radar's gallery for more on Aaron's latest splash and his ongoing apparent downward spiral.
Article continues below advertisement
Selfie Storm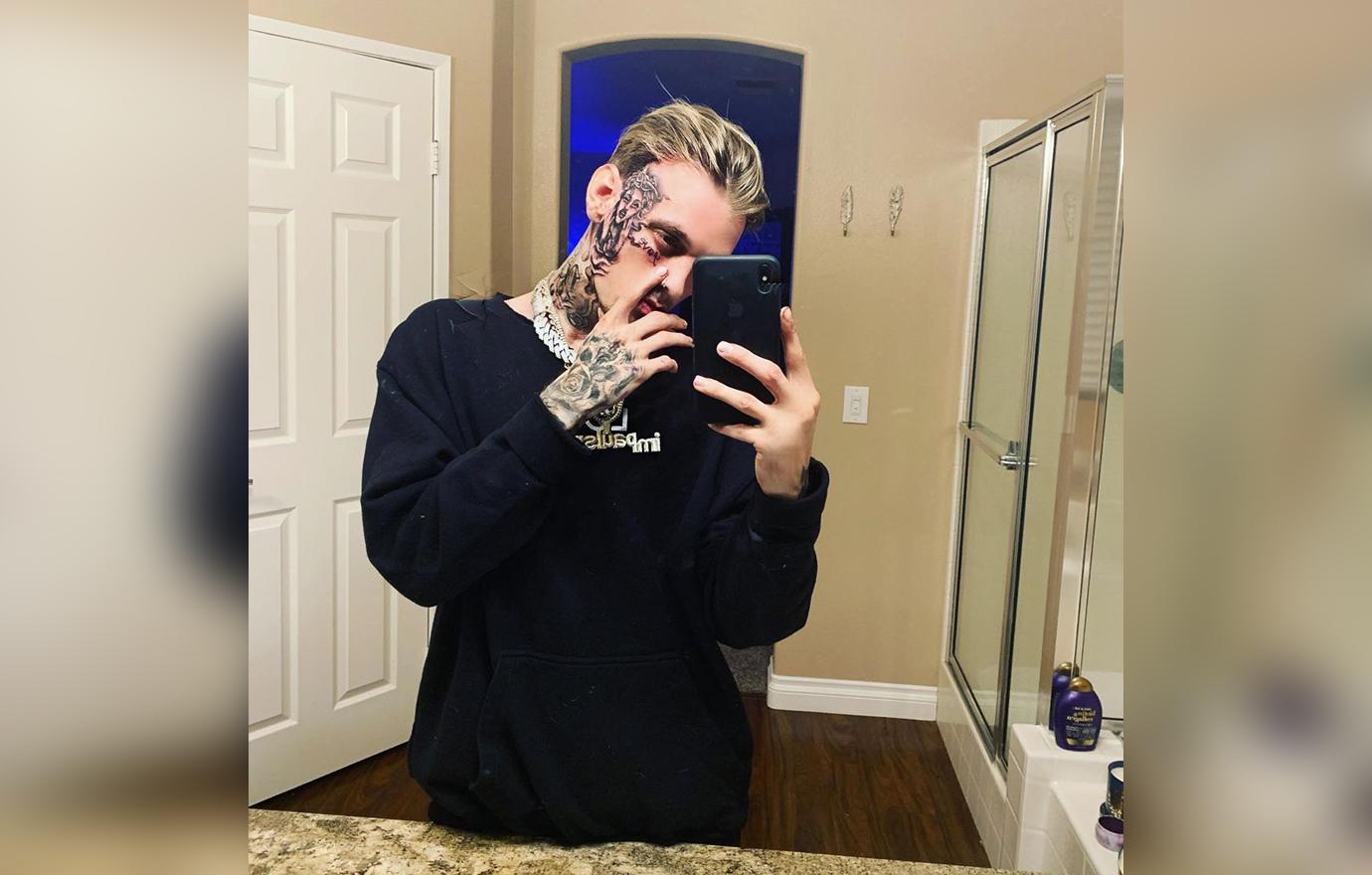 Aaron, who canceled a concert tour, first flaunted his face art on Instagram while wearing a black sweatshirt.
Article continues below advertisement
Looking For Love?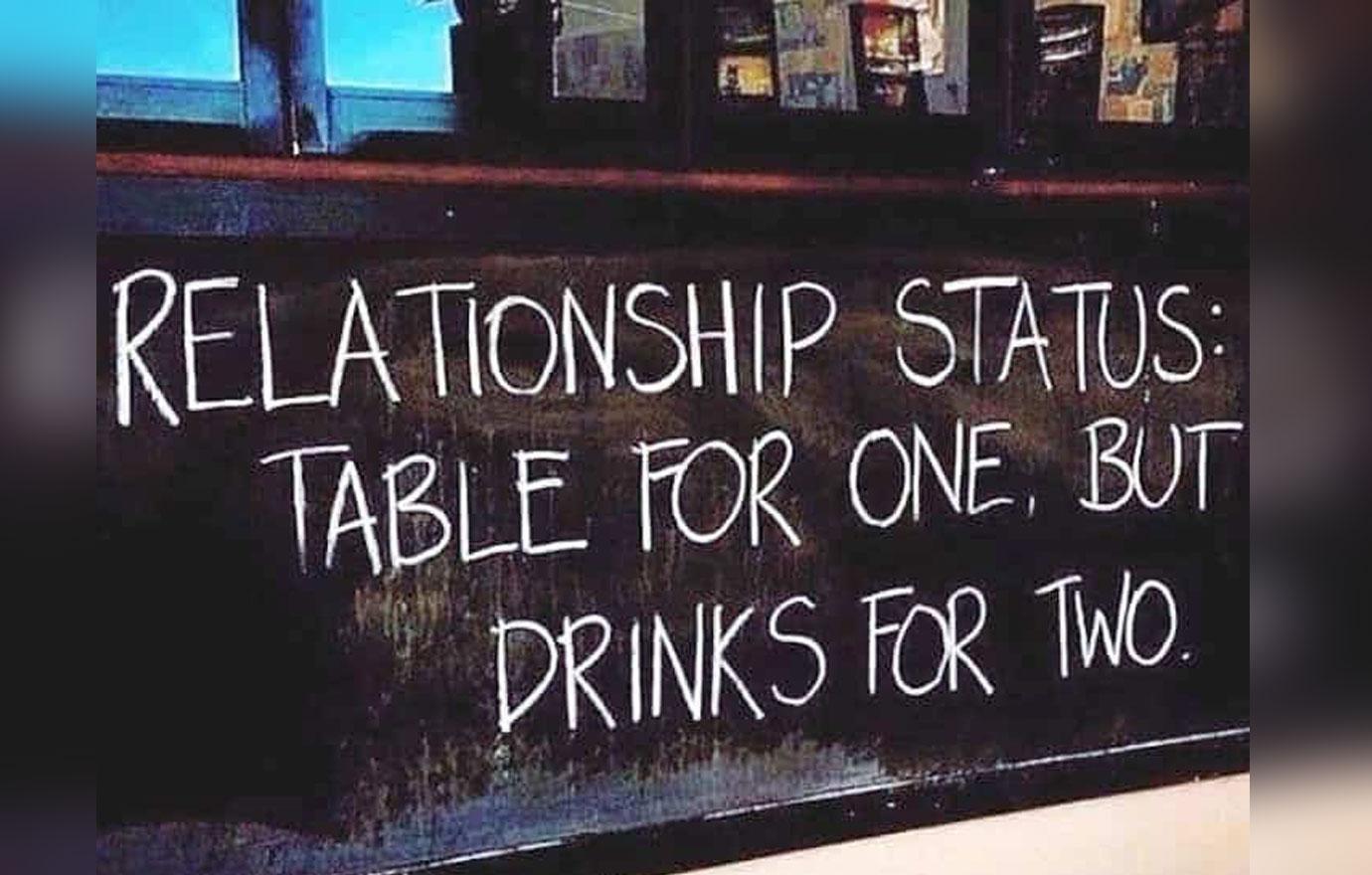 The admitted bisexual star posted a shot of a chalkboard with a message about his unattached personal life right now. He captioned it, "Where's my queen at!!? I'm waiting on you……"
Article continues below advertisement
Wild Time?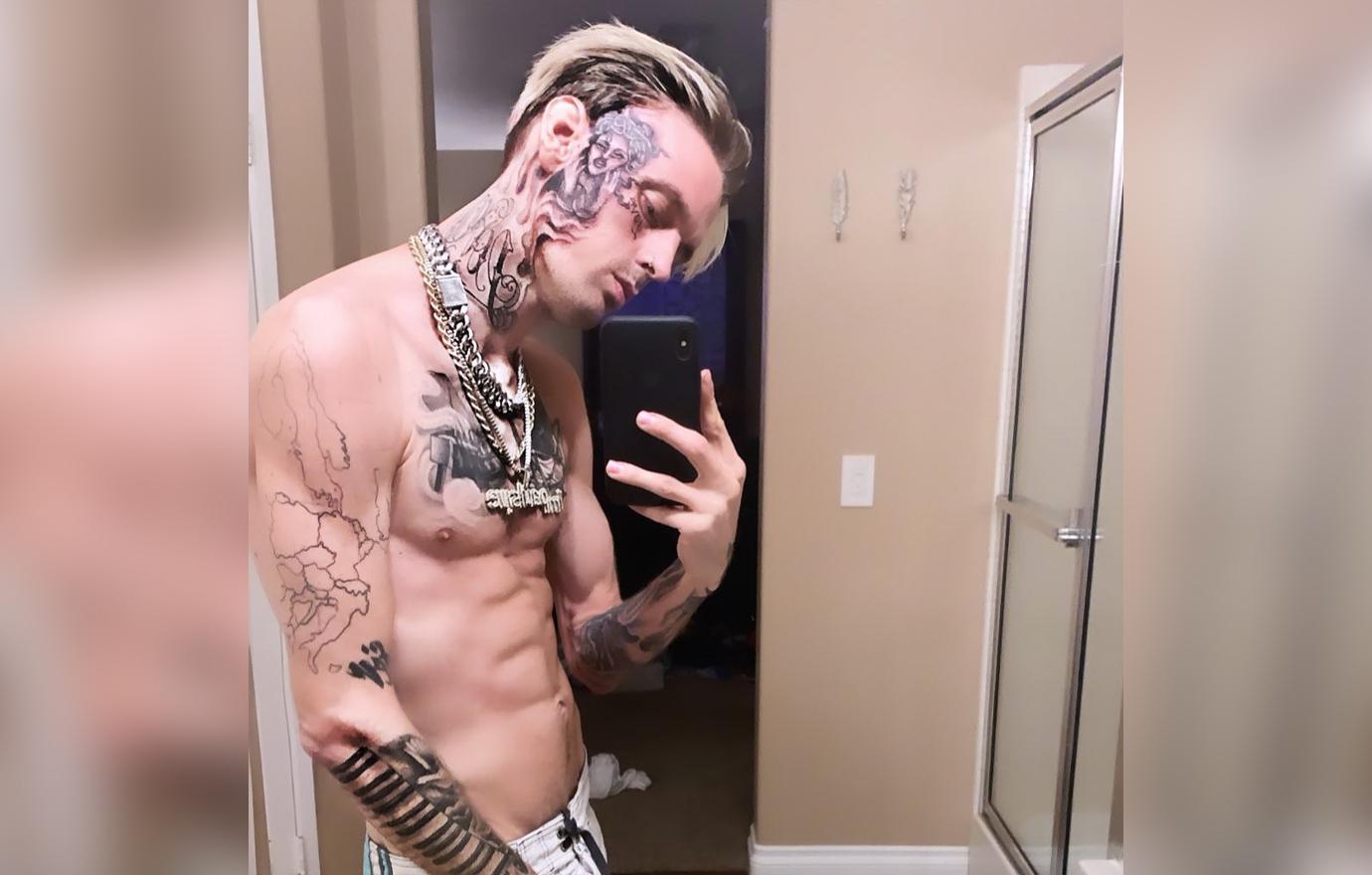 Known for his blonde good looks, Aaron made a shocking change by marking his face with the Medusa tatt. He also tweeted on Saturday, "I'm doing just fine. I ask you repent my and leave me alone. I already have to move and I don't need to be under scrutiny with every decision I make. I will take the necessary precautions to protect myself, and when I move no one will know where I live! #MissingMyMom right now."
Article continues below advertisement
Bing Bong
Video from the "Aaron's Party" singer's account showed someone lighting a bong with music playing while the star appeared to be writing "love" on a piece of paper. He captioned the post with song lyrics.
Article continues below advertisement
Brothers At War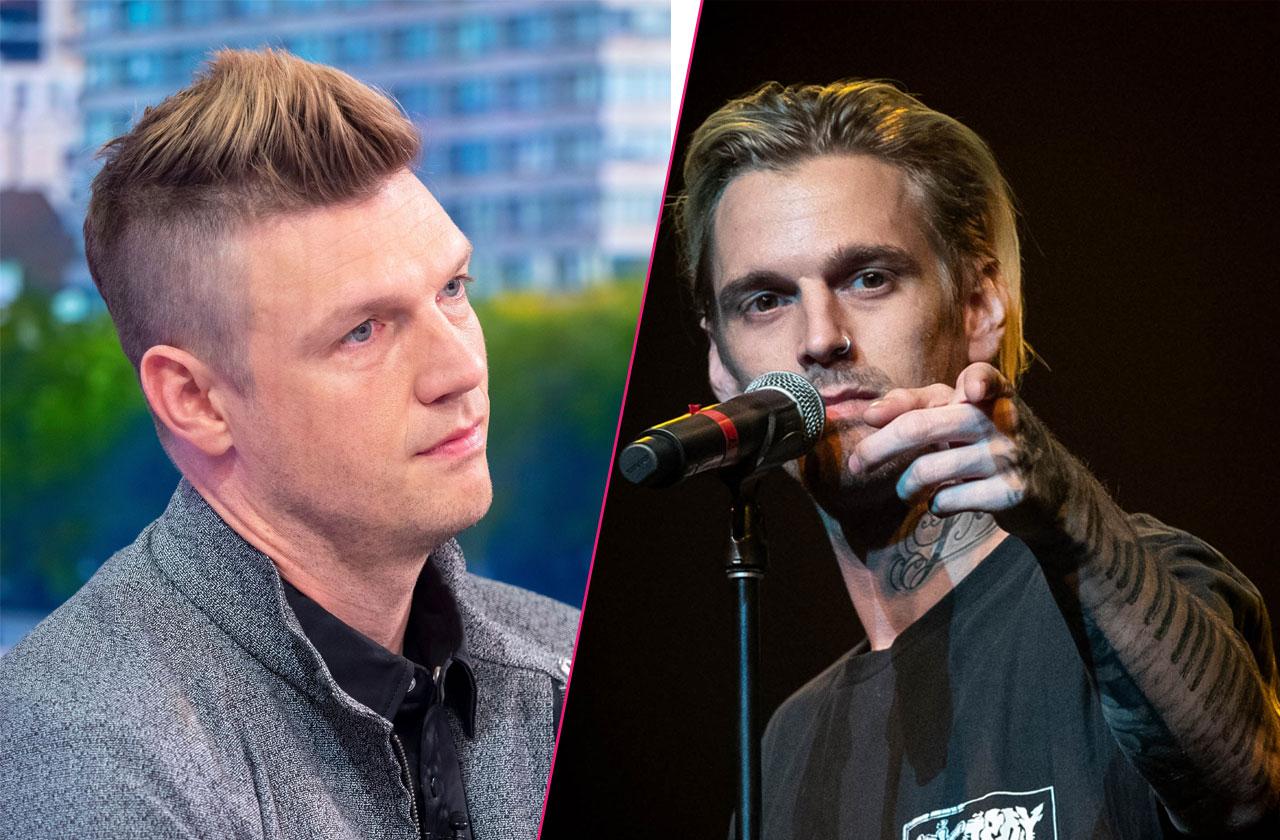 Amid his feud with Nick, Aaron has noted via Twitter, "I am astounded at the accusations being made against me and I do not wish harm to anyone, especially my family. This is obviously a chess game of some sort."
Article continues below advertisement
Carter Clash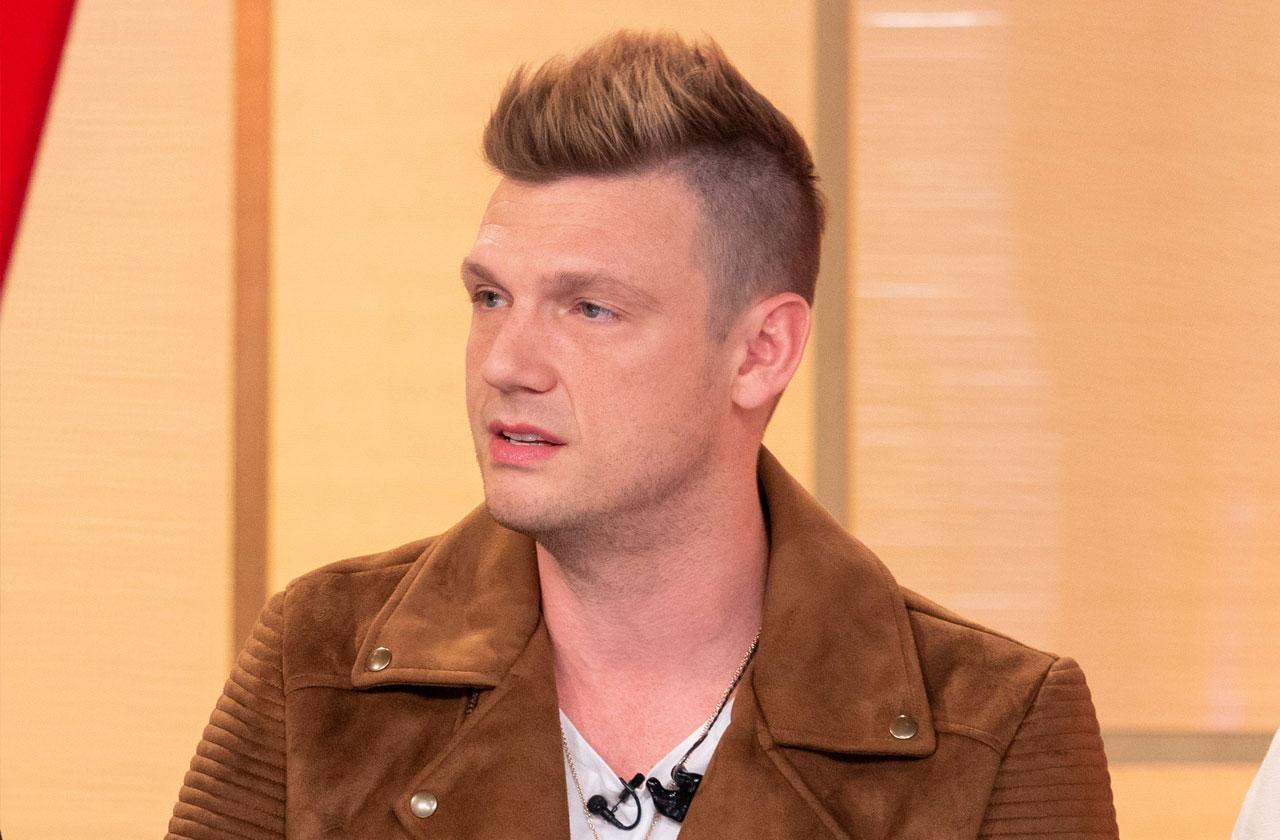 The solo artist then went on a tweetstorm against his Backstreet Boy star brother, claiming that Nick was retaliating against him for "livestreaming" with Melissa Schuman, a former member of the girl band Dream who in 2018 accused Nick of rape. (The LAPD declined to press charges).
Article continues below advertisement
Loose Cannon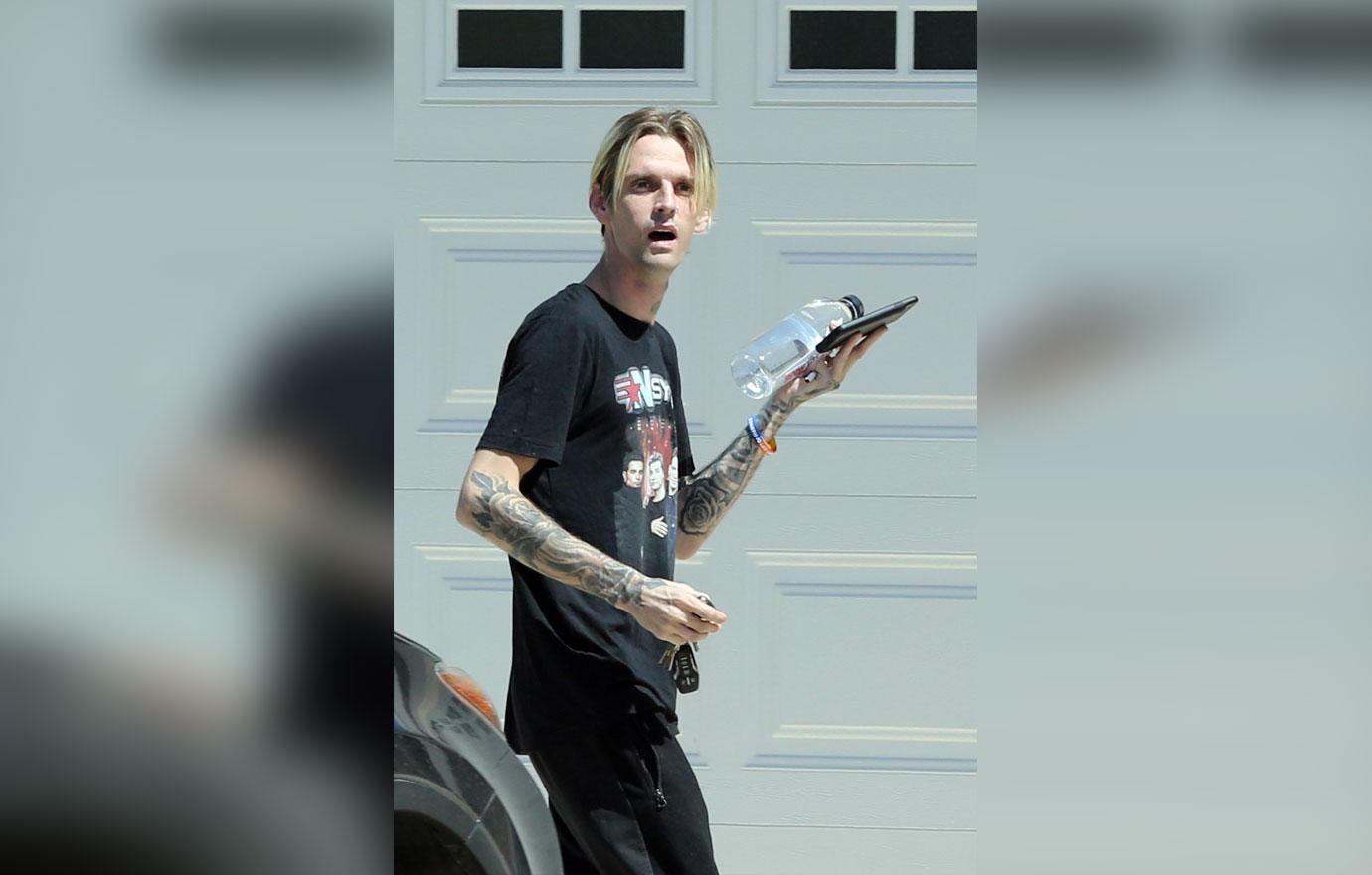 Aaron has stunned followers by admitting to mental illness and blasting brother Nick. He's alleged that the boy bander has been "using the court system to shake me down" and that it "worked on some girls but won't work on me." He also provocatively tweeted that someone should "Maybe do a r Kelly type documentary" on Nick.
Article continues below advertisement
TMI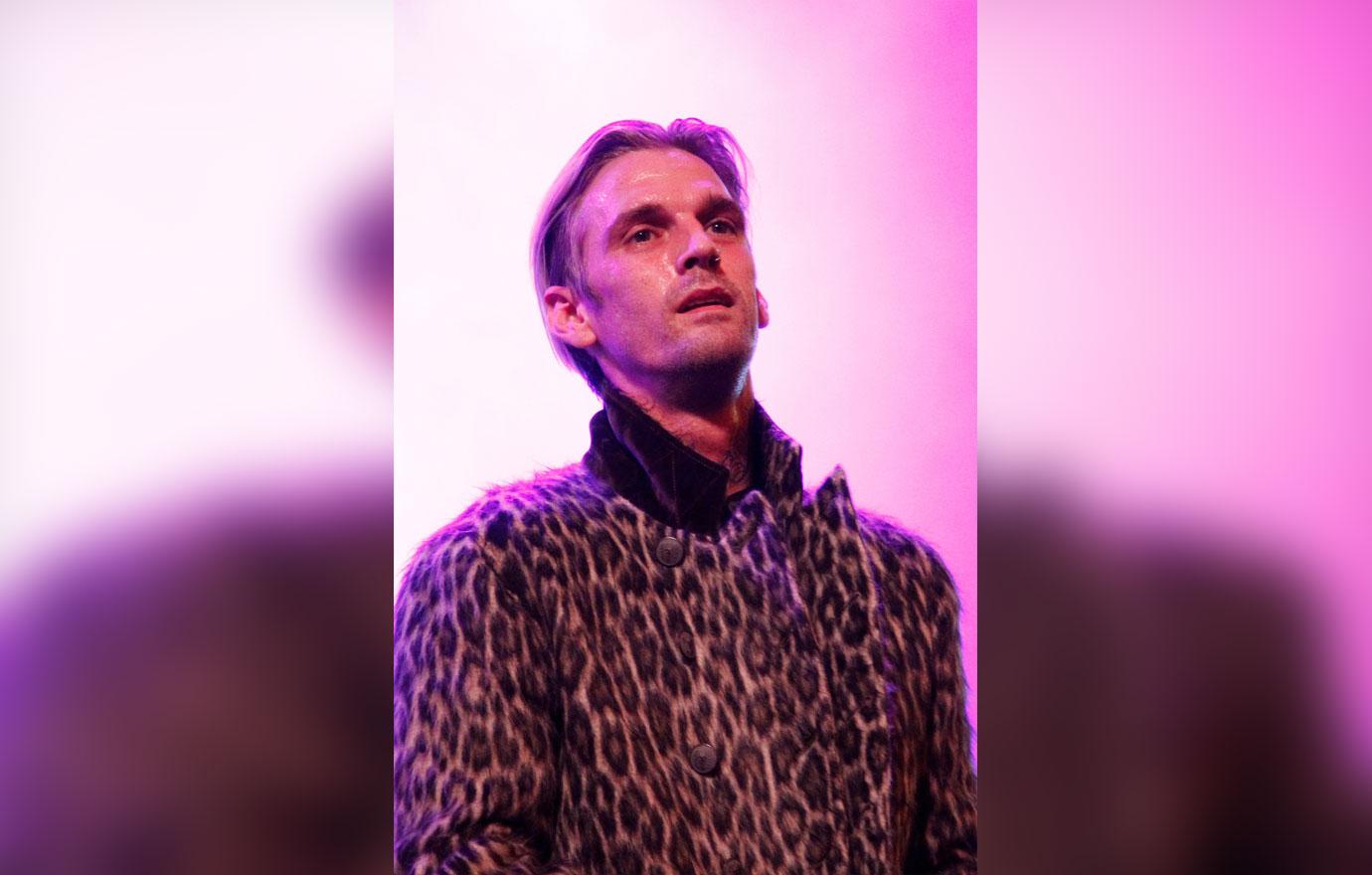 "I WILL be showing up to court for my sister, Angel's case against me," Aaron tweeted early on Saturday. "But I will not be going for my brother, Nick. I don't care if he has a restraining order against me, I will never see or speak to him again or the rest of my family."