Tori Spelling Fuels Rumors She Split From Husband Dean McDermott After She's Spotted Out Without Her Wedding Ring
Article continues below advertisement
Over the weekend, the 48-year-old Beverly Hills, 90210 alum was spotted out in Los Angeles with the pair's youngest child, a fresh hairdo and no wedding ring.
She was, however, wearing distressed denim shorts, a green-and-red plaid shirt around her waist, red-and-black Air Jordan Nikes, a heart-shaped Louis Vuitton crossbody purse and a black face mask to boot, as the actress rounded out her grungy look with a T-shirt that ironically read "LOVE."
Article continues below advertisement
Tori and her 4-year-old son, Beau, were photographed spending the sunny California day in the San Fernando Valley – first at a The Hair Shop in Encino, where they both got their hair done, then at another salon in Tarzana, where they stayed for close to five hours.
Article continues below advertisement
Spelling emerged with platinum-blonde hair to match her sweet son's, as her long wavy locks reached past her mid-back.
The following day, Tori shared a cryptic message on her Instagram Story that read, "Don't let someone change who you are, to become what they need." Fans instantly believed she was talking about Dean.
Article continues below advertisement
Another clue that the often troubled couple's marriage is on the fritz is that Spelling recently deleted the word "wife" from her Instagram bio, leaving it to say, "Actress/Mother/Writer/DIYer."
Additionally, the most recent photo of McDermott on his wife's Instagram page is from last July.
Dean has also been missing from family outings for the past several months, reportedly because he's been up in his native Canada filming a police series called Lady Dicks. But fans aren't buying that work is the only thing keeping him away.
Article continues below advertisement
Dean did join his family last month for a Mother's Day outing at a hotel pool, but he was excluded from all of Tori's subsequent social media posts. He was also absent from a family trip to a farm back in March, where Tori was also seen ringless.
Additionally, McDermott was not in attendance for the family Christmas card photo shoot that Spelling posted around Thanksgiving. She did, however, hold up her husband's headshot in the snap and explained, "Although Dean is away for work, we did our best to incorporate him."
Article continues below advertisement
Though married for 15 years, Tori and Dean have always seemed to have a rather on-again, off-again relationship.
In 2014, McDermott admitted on the couple's docuseries, True Tori, that he had been unfaithful to his wife.
Article continues below advertisement
Spelling later revealed on her Women On Top podcast that their children learned of the infidelity while reading recaps of the show online.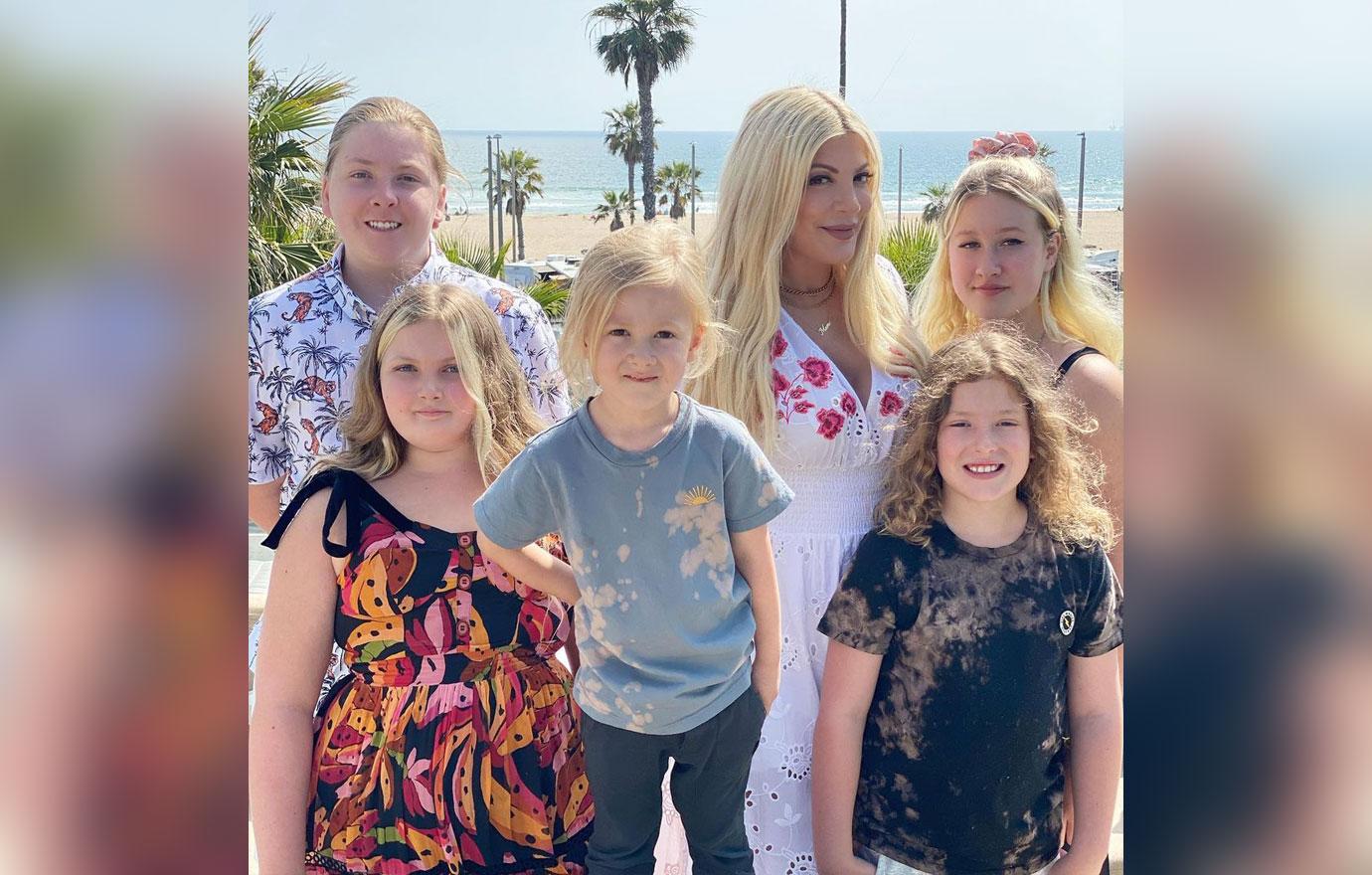 Article continues below advertisement
"My kids have not seen clips, but they've seen something out there online, and my daughter saw something," she said. "It really upset her, and she said, 'Daddy I saw something online that said you cheated on Mommy.'"
At the time, Tori said the kids were young enough for her and Dean to be able to lie to them and say that the articles about him cheating were made up, though she admitted they would have to be more forthcoming with them as they got older.
Article continues below advertisement
In addition to Beau, Tori and Dean also share 14-year-old son Liam, 12-year-old daughter Stella, 9-year-old daughter Hattie and 8-year-old son Finn. McDermott also has a 22-year-old son named Jack from a previous marriage.