Dirty 'Talk'! Sharon Osbourne Called Co-Host Julie Chen 'Wonton' & 'Slanty Eyes,' Leah Remini Claims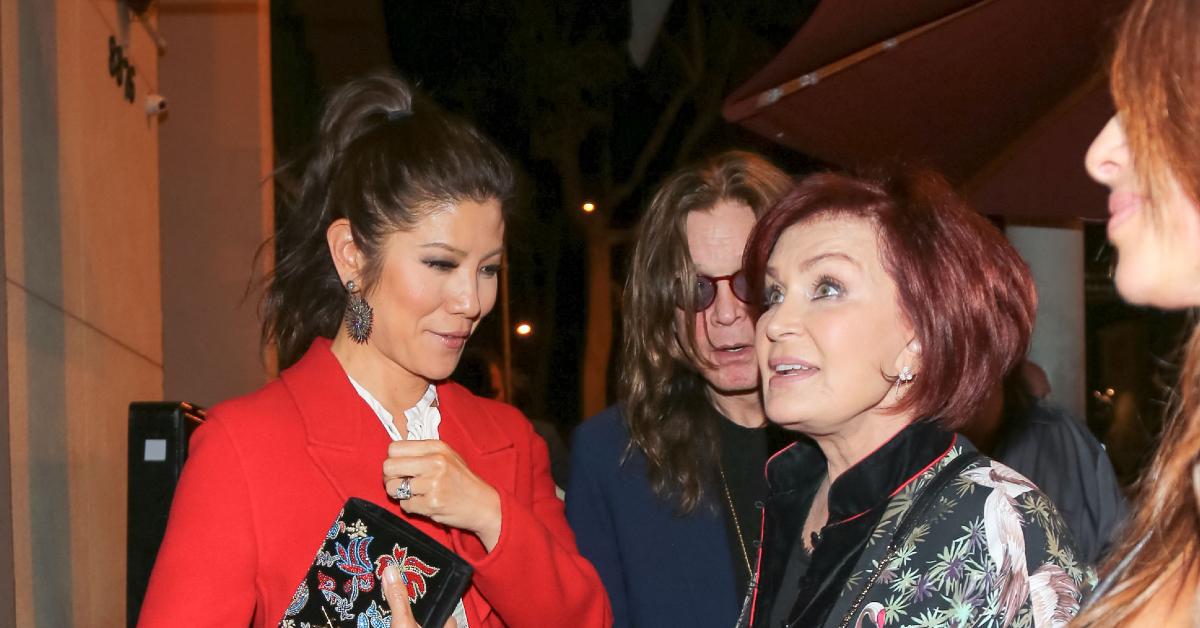 Sharon Osbourne's attempts to dig herself out from under the racism scandal she started have made a bad situation even worse — and now Leah Remini is joining the fray and slamming her former co-host on The Talk.
Multiple sources, including Remini, claimed Osbourne would call then-co-host Julie Chen "slanty eyes" and "wonton," and refer to the show's lesbian executive producer, Sarah Gilbert, as "fish eater" and "p****y licker," journalist Yashar Ali alleged in his email newsletter.
Article continues below advertisement
Remini was fired from the show in 2011, Chen left in 2018, followed by Gilbert in 2019.
"According to Remini, in one exchange during the first season, Osbourne said of Chen: 'I mean, who the f**k does slanty eyes think she is? She shouldn't be pillow-talking with our boss,'" Ali wrote.
Chen is married to Les Moonves, the then-head of CBS.
"In another exchange," Ali continued in the newsletter, "according to Remini, Osbourne said of Gilbert: 'Why won't the p***y licker do anything about the wonton?' and 'Why won't the fish eater be part of this discussion? She's the f**king executive producer.'"
Remini, 50, allegedly told Ali she should have done something about Osbourne's behavior at the time and she was "easily manipulated into a web of high school vitriol, hatred and bullying."
"Not only did I do nothing about the racism and bullying I was receiving and witnessing, I was party to it," Remini said, according to Ali. "I had to own up to my own ugly."
Following Remini's alleged bombshell claims in Ali's newsletter, Osbourne's publicist issued a statement in response.
"The only thing worse than a disgruntled former employee is a disgruntled former talk show host. For 11 years Sharon has been kind, collegial and friendly with her hosts as evidenced by throwing them parties, inviting them to her home in the UK and other gestures of kindness too many to name ... Sharon is disappointed but unfazed and hardly surprised by the lies, the recasting of history and the bitterness coming out at this moment," the statement to Page Six reads, in part.
Article continues below advertisement
CBS has launched an internal review into the matter and announced the temporary hiatus the network put the show on following the scandal will continue through next week.
A CBS rep told The New York Post: "CBS is committed to a diverse, inclusive and respectful workplace across all of our productions. We're also very mindful of the important concerns expressed and discussions taking place regarding events on The Talk. This includes a process where all voices are heard, claims are investigated and appropriate action is taken where necessary."
Osbourne first sparked the racism scandal on March 9 when she showed support for her friend, Piers Morgan, 55, after he slammed Meghan Markle's comments about her mental health.
"I am with you. I stand by you. People forget that you're paid for your opinion and that you're just speaking your truth," Osbourne, 68, wrote to Morgan in a tweet.
Article continues below advertisement
The next day, she got into an emotional conversation about Morgan with her co-host, Sheryl Underwood.
"Did I like everything he said? Did I agree with what he said? No," Osbourne told Underwood, 57. "It's not my opinion ... I support him for his freedom of speech, and he's my friend."
Underwood responded: "What would you say to people who may feel that while you're standing by your friend, it appears you gave validation or safe haven to something that he has uttered that is racist, even if you don't agree?"
"Educate me! Tell me when you have heard him say racist things," Osbourne demanded.
"I very much feel like I'm about to be put in the electric chair because I have a friend, who many people think is a racist, so that makes me a racist?" she added.
Osbourne later issued a formal apology to "anyone that feels confused or let down" by what happened on the show.
Osbourne explained she felt "panicked" and "blindsided" at the "horror of being accused of being racist."
"There are very few things that hurt my heart more than racism so to feel associated with that spun me fast," she insisted.
Article continues below advertisement
However, as RadarOnline.com reported, following the heated exchange, Osbourne's former co-host, Holly Robinson Peete, also came forward with disturbing new allegations, including the claim Osbourne got her fired.
"I'm old enough to remember when Sharon complained that I was too 'ghetto' for #theTalk…then I was gone," claimed Peete, who departed The Talk in 2011. "I bring this up now bc I was mortified watching the disrespectful condescending tone she took w/ her co-host who remained respectful because…she HAD TO."
Peete, 56, added: "I LOVED being on The Talk … but sometimes awesome gifts come in humiliating packages."
Osbourne has denied Peete's shocking allegations and responded by posting an email she claimed her former colleague sent one month after departing the show.
In the email, Peete allegedly wrote she "madly" misses Osbourne and claimed CBS and Julie Chen were the ones causing trouble.
Follow RadarOnline.com as the explosive story continues to develop.