Robert F. Kennedy Jr. Savagely Takes Down Anthony Fauci In Bombshell New Book About Coronavirus Handling
Robert F. Kennedy Jr. is set to take on the director of the U.S. National Institute of Allergy and Infectious Diseases, Anthony Fauci.
The anti-vaccine advocate, who is the nephew of former President John F. Kennedy, will be releasing a shocking book titled, The Real Anthony Fauci: Bill Gates, Big Pharma, and the Global War on Democracy and Public Health.
Article continues below advertisement
In the takedown, Kennedy promises to give readers the full picture of Fauci and what he has done since he has been the head of NIAID since November 1984.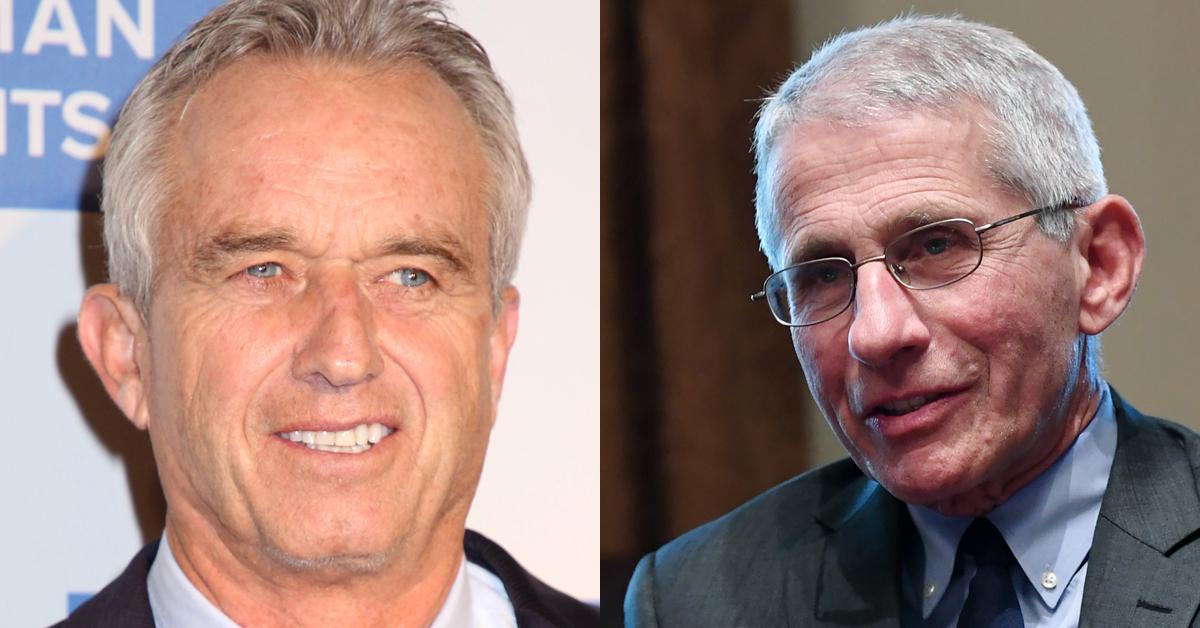 Article continues below advertisement
"Dr. Anthony Stephen Fauci, tasked with managing the COVID-19 pandemic in the US, peddled and back-pedaled his prescriptions as Pharma profits and bureaucratic powers grew and public health waned," Kennedy writes.
Kennedy believes Fauci worked in "tandem with his long-term partner, billionaire Bill Gates, to corral Americans toward a single vaccine solution to COVID, Dr. Fauci committed zero dollars to studying or promoting early treatment with various drug combinations that could dramatically reduce deaths and hospitalizations."
Article continues below advertisement
Kennedy investigated how Fauci and Gates, "worked together to finance and promote the very gain-of-function experiments in Wuhan that may have released the COVID-9 pathogen."
MORE ON:
Robert Kennedy Jr.
Article continues below advertisement
In the book, he writes about his belief that Fauci had his "Silicon Valley and media allies dutifully censored criticism of his policies on mainstream social media and collaborated to muzzle any medical information about therapies and treatments that might end the pandemic and compete with vaccines."
The book will criticize Fauci for allegedly protecting the big pharma companies from liability for injuries relating to any COVID countermeasure, including vaccines.
Article continues below advertisement
Kennedy doesn't hold back in trashing Fauci. He writes, "His lockdowns targeted First Amendment religious freedom by closing churches—while keeping liquor stores open as "essential businesses"—and abolishing century-old religious exemptions to vaccination."
He also has issues with the mask mandate Fauci endorsed. Kennedy says it was "arbitrary" and strangled our Fourth and Fourteenth Amendment due process guarantees. His tracking and tracing initiatives bulldozed Constitutional rights to privacy and travel, and our Fourth Amendment protections against warrantless searches and seizures."
The acclaimed literary giant, Skyhorse Publishing, will be releasing the book on July 20.