'RHOM' Alum Lea Black Trashes Alexia Echevarria For 'Outing' Her Dead Husband Herman, Slams 'Superficial' Larsa Pippen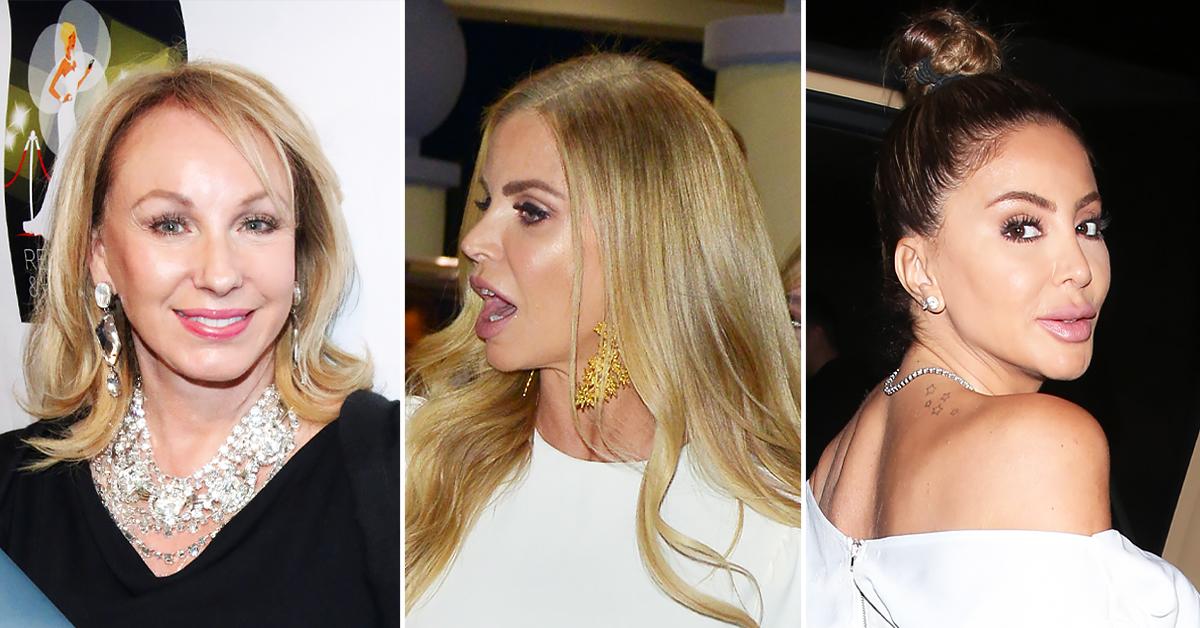 Just because Lea Black has moved on from The Real Housewives of Miami doesn't mean the philanthropic wife of famous criminal defense attorney Roy Black doesn't have her fair share of opinions about her former co-stars.
Viewers of the rebooted reality show – which debuted last month on NBC's streaming service, Peacock – were shocked when fellow OG Alexia Echevarria spoke openly about the rumors that had long plagued her 12-year marriage to her late ex-husband, Herman Echevarria.
Article continues below advertisement
The "Cuban Barbie" and well-known businessman decided to go their separate ways in 2015. Their divorce was finalized in 2016.
Herman died later that year, in a sense freeing Alexia to explore this idea that the man who had worshiped the ground she walked on and helped raise her two sons could have possibly lived his life as a closeted gay man.
Article continues below advertisement
In fact, it was during the currently airing season of RHOM that Alexia decided to seek out Herman's alleged lover, who she was told even attended his funeral.
Though the man refused to appear on camera, Alexia told her co-stars that the two spoke for hours over the phone. It was a conversation, she said, that gave her closure but also made her sad.
Later on – at a Pride event honoring Alexia for her work in the LGBTQIA+ community – the mother of two dedicated her award to both Herman and her late father, who she said she learned later on in life was also a closeted gay man.
Perhaps seeing the aforementioned play out on her screen would show the situation in a different light, but from what Lea has heard, she does not like what Alexia has done one bit.
Appearing on the Behind The Velvet Rope With David Yontef podcast, Lea claimed she hadn't watched Season 4 of the series and explained that her relationship with Alexia always came secondary to her relationship with Herman.
"See, I was close to Alexia's husband. I was never close to Alexia," she told David. "And I heard some things that are, if true, I'm going to make a big stand-up and defend Herman ... on his behalf, if what I've heard is true about things that are been said about him through her on the show."
MORE ON:
Real Housewives Of Miami
Article continues below advertisement
Black went on to say that she believes outing a dead person is "not fair."
"He's not here to defend himself," she said of Herman specifically. "And he did nothing but lavish [Alexia] with luxury for years."
Though Lea admitted that Herman had "a lot of flaws" and "different aspects to his life," she maintained he was "an amazing human being" and "really good guy."
"I hope they don't try to take that away from him," she lamented, adding that she hoped Alexia and showrunners would "celebrate" Herman's life by shining a light on "the contributions he made to a lot of things in the world, to the community, Miami, to his businesses, taking care of her and her kids and his family."
But "if anybody is trying to make him look bad," warned Black, "I will have a hard time keeping my mouth shut."
Lea also went in on Larsa Pippen, who was accused by a co-star of ditching the group when she befriended the Kardashians, only to come crawling back years later after they dropped her like a hot potato.
And according to Lea, Larsa believes her connection to Kim, Kourtney and Ko. was a major selling point in bringing her back for the RHOM reboot.
"I do think she kind of thinks that. Based on my conversations with her, I think she kind of thinks that," said Black. "And that's not an insult to her! I think that's going to be a very short-lived interest in people. Now, if she can get past that ... great. But if it's the bait-and-switch then no, no. ... That's not sustainable. ... It's a buzz, and it's over."
Article continues below advertisement
Lea doubts that Larsa will show viewers anything of substance because she's "never known her to really put herself out [there]."
"I've never seen her crying or complain[ing] or whining about her personal life. I've never seen any of that with her, so I wouldn't expect it," noted Black, going on to say that Pippen "has a very see-and-be-seen superficial kind of life."
"I've never seen her be the person to really put her raw feelings and self out there," she reiterated, making sure to note that the two are actually friends. "I think she's a little guarded that way."