Nicki Minaj Set To Host 'Real Housewives Of Potomac' Reunion, Publicist Says Andy Cohen Will 'Gladly Give Up His Seat'
Article continues below advertisement
The Grammy Award-winning rapper and apparent Bravo superfan will be taking over for Andy Cohen and hosting the Real Housewives of Potomac Season 6 reunion, which is set to film in October.
Rumblings of the first-of-its-kind deal began Thursday on Instagram after Nicki shared a clip of the current cast – which is made up of Karen Huger, Gizelle Bryant, Robyn Dixon, Ashley Darby, Candiace Dillard Bassett, Wendy Osefo and Mia Thornton – singing her Moment 4 Life Potomac-style remix, which she recorded for one of the network's television promos.
Article continues below advertisement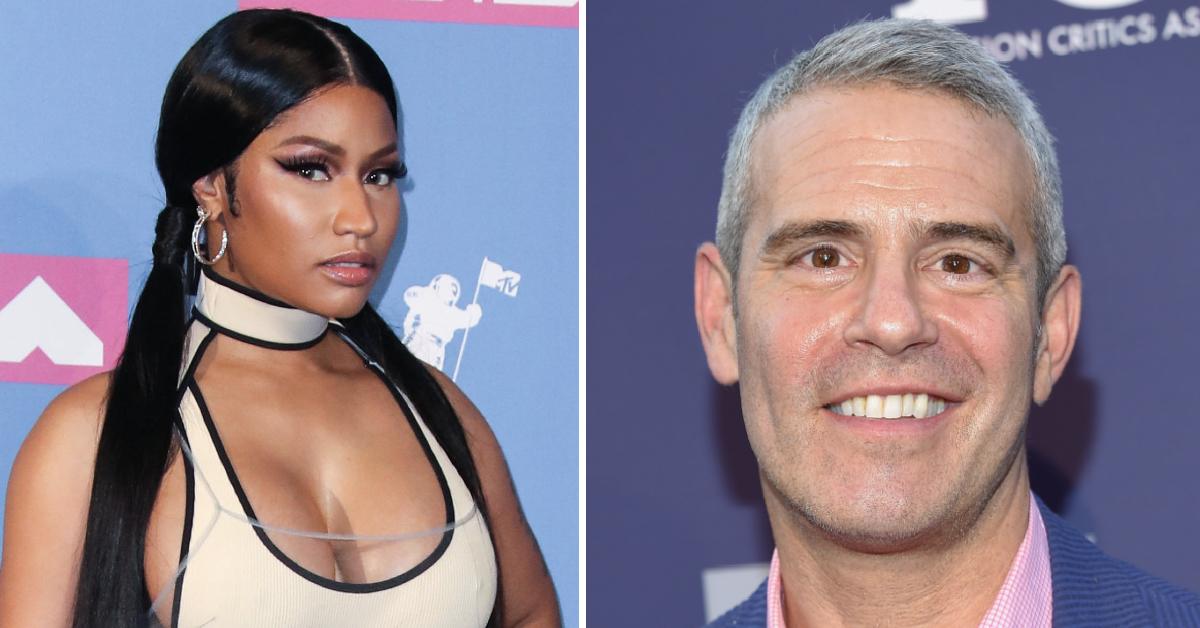 "I'll be hosting the reunion," she captioned the post. "Lmk what y'all want me to ask chile."
Article continues below advertisement
While cast members, Real Housewives of other franchises and fans alike lost their minds, it was still not clear whether Nicki was being serious.
Then on Friday, she confirmed the news.
Article continues below advertisement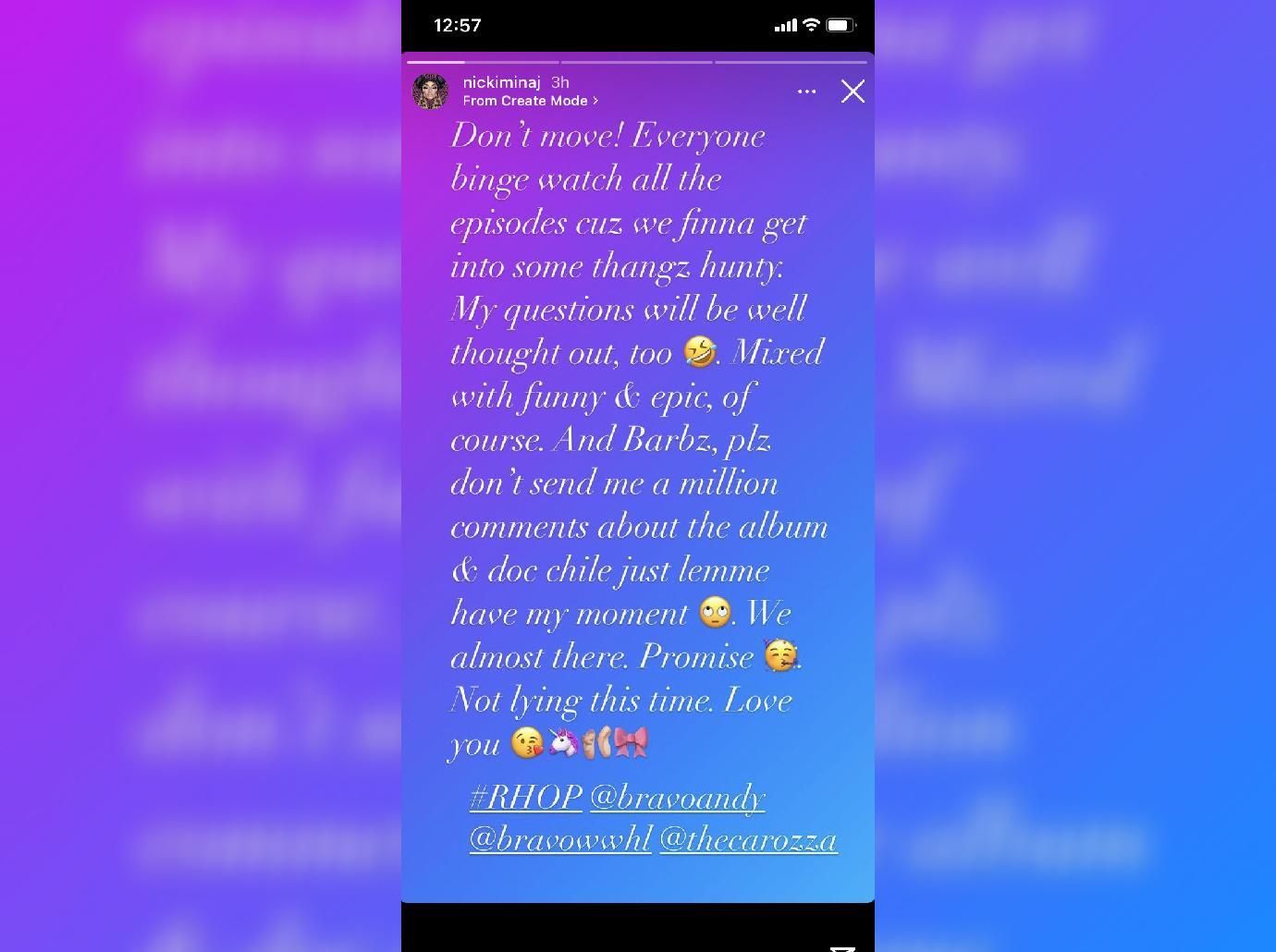 "Don't move! Everyone binge watch all the [RHOP] episodes cuz we finna get into some thangz hunty," Minaj posted on her Instagram Story. "My questions will be well thought out, too. Mixed with funny & epic, of course."
"And Barbz," she added, addressing her fans directly, "plz don't send me a million comments about the album & doc chile just lemme have my moment. We almost there. Promise. Not lying this time. Love you."
Nicki tagged Andy, Bravo and her publicist, whose text messages she shared on the following slide.
Article continues below advertisement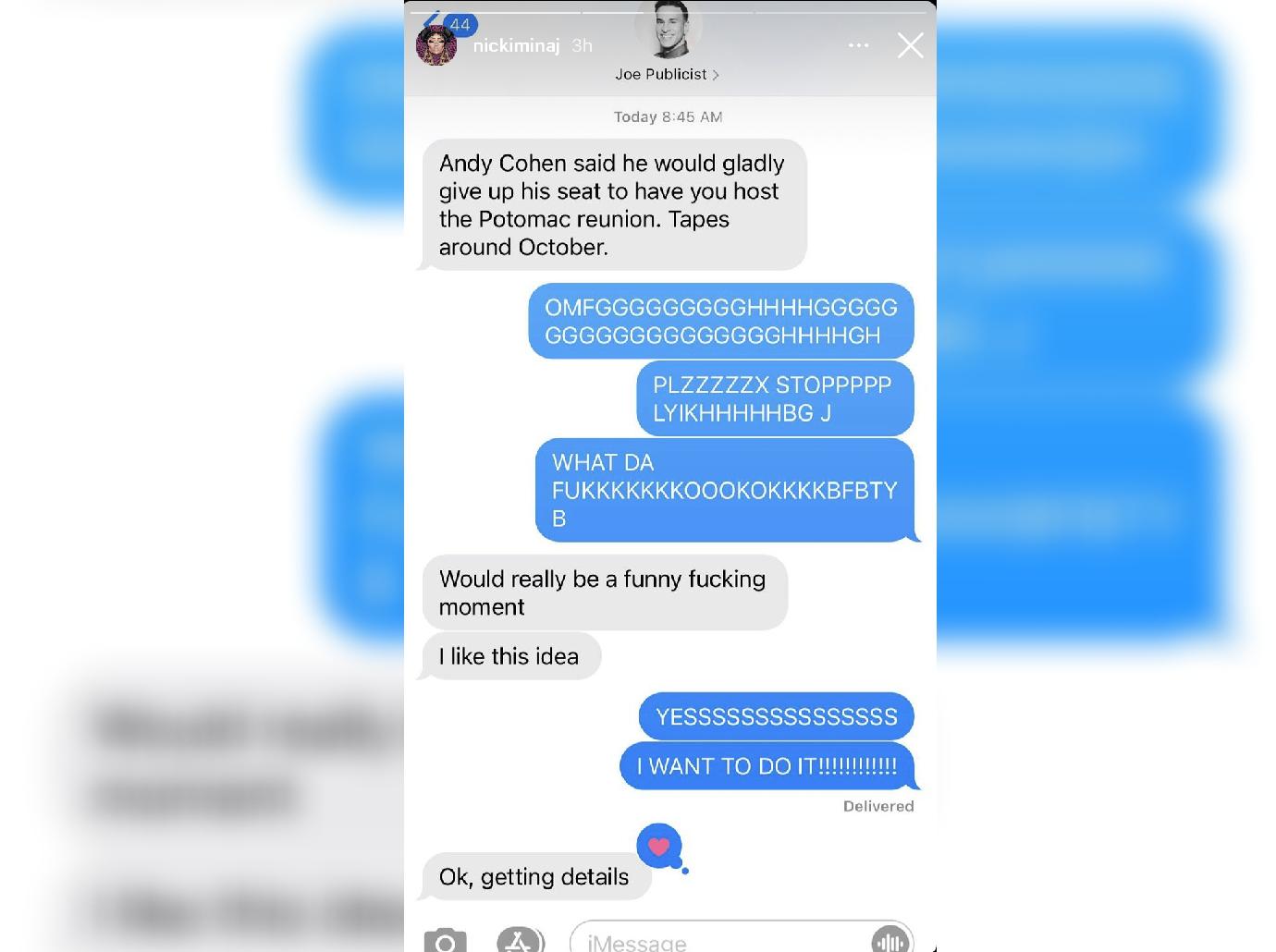 "Andy Cohen said he would gladly give up his seat to have you host the Potomac reunion," Joseph Carozza texted the rapper today at 8:45 AM, according to the screenshot.
Her response was that of a squealing teenybopper at a JoJo Siwa concert.
"OMFGGGGGGGGGGGGGGGGGG," Nicki replied. "PLZZZZ STOPPPP [LYINNNNNNNN]. WHAT DA FUKKKKKKKKKKK."
"Would really be a funny f--king moment," Joseph replied calmly. "I like this idea."
Minaj texted back, "YESSSSSSSS. I WANT TO DO IT!!!!!!!!!"
"Ok, getting details," Carozza replied, a message that an emotional Nicki "hearted."
The Bravo boss himself then confirmed the confirmation, reposting Minaj's first Story and adding, "Nicki is not playing!"
Article continues below advertisement
As for the women who will be sitting on the couches of either side of the international superstar come that sure-to-be memorable day of filming in October, they are beside themselves with excitement – even Candiace, with whom Nicki says she has beef.
"C'mon thennnnnn!!!!" Dillard Bassett replied to the news, prompting Minaj to respond, "omw!"
"[At] the reunion ima have to get into some thangz wit sissy. Cuz chiiiile," she added, prompting Candiace to reply, "Let's chat, chyle. And thank you."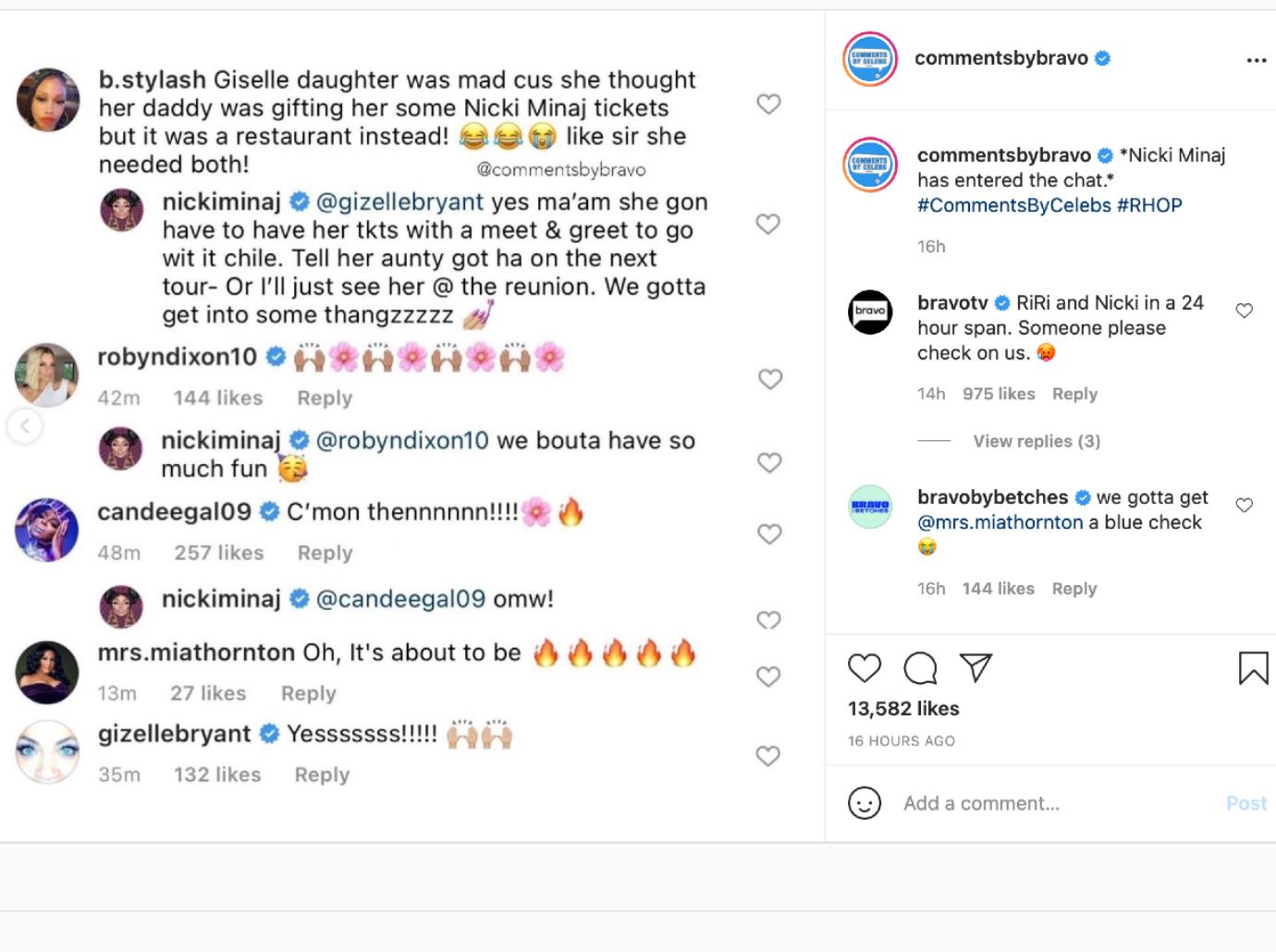 Article continues below advertisement
As for the self-proclaimed Grand Dame, Karen commented, "All right now," eliciting the following from Nicki: "Yes ma'am. I know a thing or 2 about being the Grand Dame."
Robyn dropped hand-up emojis and flower emojis, to which the musician replied, "We bouta have so much fun."
Gizelle shouted, "Yesssssssss!!!!" prompting Minaj to say, "comin to give what pose to been gave."
And Wendy wrote, "Yessssss Queen," to which Nicki responded, "It's givin the most iconic reunion of awl time chi."
Newcomer Mia also expressed her excitement, writing, "Oh, it's about to be [fire]." And Ashley, well, she simply "liked" the post. Hmmm...